---
Inspired by his upbringing in Wexford, Ireland, and staying true to his brand's ethos - creating considered, functional and beautifully made garments that minimise harm to our environment and working towards creating a circular, sustainable fashion system - Irish designer Richard Malone's approach to the International Woolmark Prize has been to preserve tradition and give equal respect to all involved in the collection's creation.
Malone is strongly against the mass production and excess prevalent in today's fashion industry, and has been vocal about changing our approach to design, sustainability, transparency and luxury. Since his label's inception, he has been celebrated for his inventiveness and innovation in fabric production, garment manufacturing, pattern cutting, recycling and education.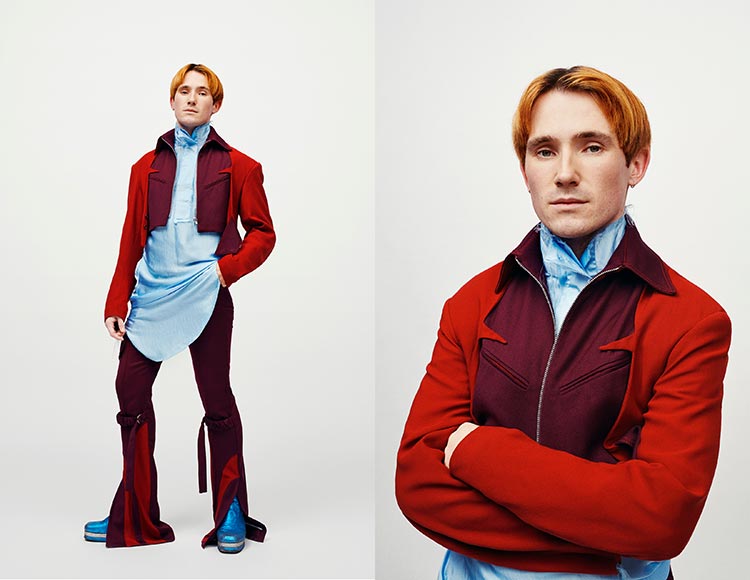 Malone has worked with a society of weavers in Tamil Nadu, India, since 2016. He continues to work with these incredibly skilled weavers, using completely organic and plant-based dyes as well as more recent innovations using Merino wool and other conscious fibres.
"The International Woolmark Prize allowed me to work with a community of weavers in southern India," says Malone. "Collectively, we are working to sustain these communities and prevent the craft and tradition that extends generations from being lost, as it was in my hometown of Wexford.
"I believe that sustainability needs to be the norm, and that environmentally conscious garments should be no less directional or desirable than any others."
"I believe that sustainability needs to be the norm, and that environmentally conscious garments should be no less directional or desirable than any others. In this case, one of my goals was to work exclusively with mills and weavers that encourage and implement fair trade, regenerative farming, recycling initiatives, organic dyeing and the promotion of education for understanding garment construction and adding to a garment's life cycle. I believe this is a powerful tool in changing our buying habits, encouraging the demands we put on the clothing industry and how we wish to proceed at a time of increasing environmental awareness."
Utilitarian inspiration, from fishermen to his father's uniforms - aprons, work trousers or a drawstring work jacket - are reimagined or deconstructed to create a new, directional, contemporary garment. Malone offers a tailored, working collection that employs these ideas but in a completely modern way. Garments can be mixed and matched or seamlessly integrated into the contemporary wardrobe. The collection employs handwoven, traditional fabrics with organic and azo-free dyes, from protected farms that employ regenerative initiatives to sustain both jobs and the environment. The fabric - after many, many years of love, use and repair - can then be recycled through Fibreshed, feeding back into the soil to help sustain future farms.
"Our main innovation is in our supply chain, which is multifaceted from farm to fabric and back to soil again. It's my ambition to create an egalitarian, circular and slow fashion system that is transparent, traceable and open, and in turn sustain an entirely new, reimagined language for luxury.
"My goal is to establish a network that can become a benchmark for a new way of producing fashion, that is both respectful to those who make it, and vitally respectful to our planet. Transparency is essential in our move forward and in future-proofing our industry and our environment. This collection aims to respect and trace each person and process involved in the collection's creation, with everyone given equal billing."