Close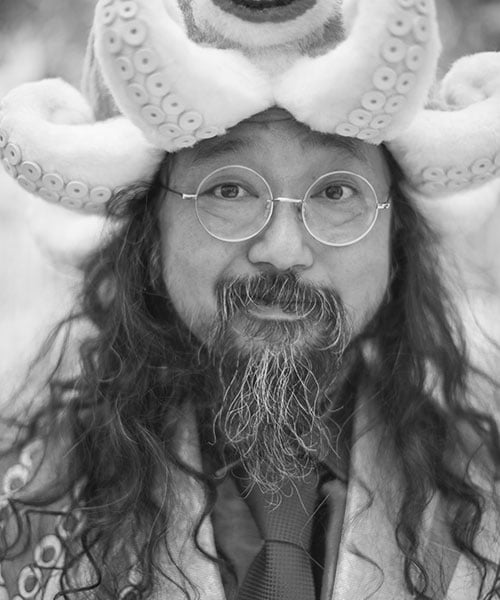 Artist and President of Kaikai Kiki Co., Ltd.
The originator and proponent of Superflat theory, which reconstructs Japanese traditional paintings and the origin of Japanese contemporary art through visual premises of anime and manga, Takashi Murakami is one of the most acclaimed artists to emerge out of Asia. Murakami's cultural theory based on subcultures not only deconstructs the highbrow/lowbrow hierarchy but critically illustrates the post-World War II Japanese psychology, establishing a discourse unique to Japan in the increasingly globalizing art scene.
Murakami continues to attract a wide-ranging audience beyond contemporary art through his multifaceted activities including his collaboration with Louis Vuitton and focuses on street culture and contemporary ceramics. Murakami has created numerous characters including Miss Ko2 and Mr. DOB that reflect the otaku culture and presents them in the forms of intentionally kitsch sculptures and acutely two-dimensional paintings antithetical to the Western perspective techniques.
The final instalment of his Superflat trilogy of curated exhibitions, Little Boy: The Arts of Japan's Exploding Subculture (New York, 2005), was awarded The Best Thematic Museum Show in New York by AICA that year.
His first retrospective, ©MURAKAMI (2007 - 2009) toured four cities in North America and Europe, starting with the Museum of Contemporary Art, Los Angeles. He has since been holding major solo exhibitions around the world, including at the Palace of Versailles (2010), Al Riwaq Exhibition Hall (Doha, 2012), the Mori Art Museum (Tokyo, 2015), the Garage Museum of Contemporary Art (Moscow, 2017), and Tai Kwun Contemporary (Hong Kong, 2019).