A short film has been released to celebrate the 2022 International Woolmark Prize finalists, directed by FKA twigs and drawing inspiration from Isamu Noguchi.
In honour of the seven finalists, artist, performer, producer, and director FKA twigs directs and stars in PLAYSCAPE, a short film celebrating the art of play. Looking to one of the 20th Century's most important and critically acclaimed sculptors Isamu Noguchi, PLAYSCAPE was inspired by Noguchi's vision of play as a creative catalyst.
Directed by FKA twigs, with creative directed by Zak Group, the film merges influence from fashion, art, dance and music. PLAYSCAPE encompasses a film, an immersive showroom and special partnership with The Isamu Noguchi Foundation and Garden Museum.
Choreographed by classically trained dancer Juliano Nunes, the film opens with an empty gallery of Noguchi's play sculptures, which becomes populated by a diverse ensemble cast of characters. In the second part of the film the cast enters an imaginary landscape, where a ballet sensibility is combined with elements drawn from hip-hop, modernism, contemporary dance and punk aesthetics.
Guest appearances by iconic creatives including DJ and artist Princess Julia, activist and moel Kai Isaiah Jamal and DJ and dancer Kiddy Smile complement the unique silhouettes and mood of each designers' collections. Dancers include Ève-Marie Dalcourt, Tania Dimbelolo, Dmitri Gruzdev, Meshach Henry, Salome Pressac, Hannah Raynor, Maycie-Ann St-Louis and Alex Thirkle.
Who was Isamu Noguchi
Sculptor and visionary Noguchi designed playgrounds that offered a radical potential for physical and social interaction. From the 1930s, Noguchi conceived of playgrounds that offered a radical potential for physical and social interaction. He designed several "playscapes" where the public could directly interact with sculptures in ways typically not possible in a museum.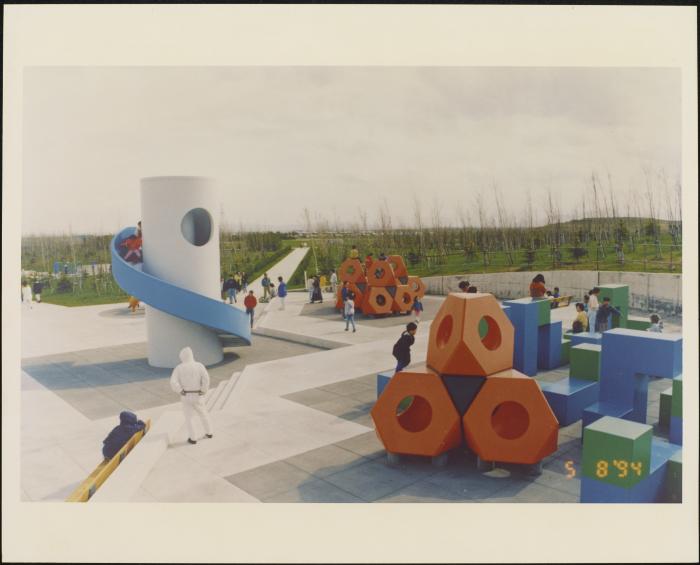 Images courtesy of The Noguchi Museum Archives. © INFGM / ARS – DACS
The 2022 International Woolmark Prize has been inspired by Noguchi's ground-breaking multi-disciplinary work and the importance of play in creativity.