---
Ludovic de Saint Sernin represents a return to beauty, seen via sensuality and sexuality, with an exacting approach to design and make.
The Paris-based label is well known for underwear, forming a new product category of luxury underwear for men, the eyelet brief in particular is now a consistent, direct-to-consumer best seller for the brand.
Sustainability lies at the core of the Ludovic de Saint Sernin brand. As a designer in his late 20s and his team even younger, to think otherwise is not an option. Saint Sernin feels a very real threat of excess and misuse of the world's resources and since the inception of his brand he has been pushing for a return to beauty in fashion. This not only applies to the aesthetics of his designs but also the way the products are sourced and made.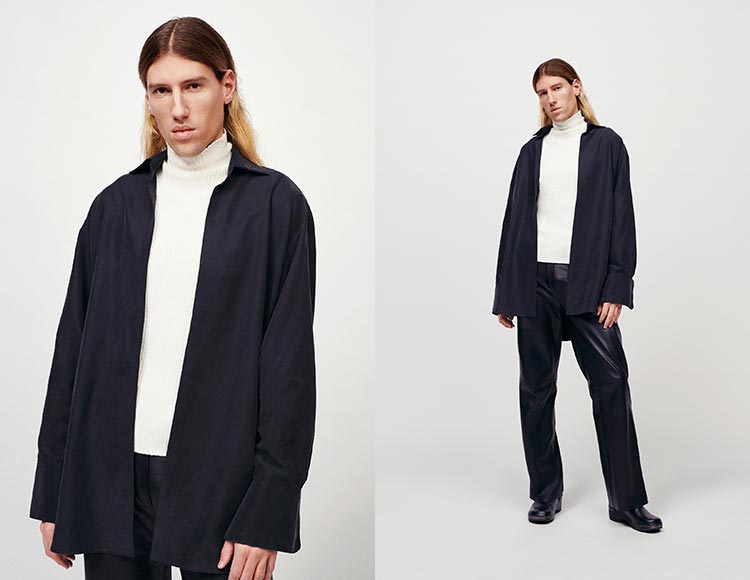 Each piece in the collection is not made to adhere to a fleeting trend, but instead designed to be an investment piece that could last a lifetime. Made in France has also been a very important component of the brand allowing for traceability and the ateliers he works with in Paris become extended members of the LdSS family.

"All yarns are sourced from Italy and fabrics are from Italy or France," explains Saint Serin. "For the bodies, the pieces are fully fashioned reducing waste and produced in extrafine Merino wool. The coats are also Merino and made in Paris. The coats are oversized and heavy; they comfort, protect, conceal or reveal as the wearer so desires."
For the International Woolmark Prize, Ludovic de Saint Sernin presents 'Heartbreak', a cathartic expression inspired by experiencing a break-up of his own last year. A broken heart symbol appears throughout the collection, yet through break up comes both fragility and strength. We see extrafine wool semi-transparent bodies, juxtaposed with robust and comforting wool coats. The eyelet brief - which quickly became a signature of the brand - also makes an appearance, this time reimagined in wool.
The Ludovic de Saint Sernin brand has become synonymous with a sexy minimalism and he wanted to bring this to the world of wool. When looking at the eyelet brief he chose to have the signature garment hand crocheted in wool. When looking at the history of underwear, wool was the dominant medium, Saint Sernin was excited to see how his most identifiable piece would perform in wool.
"What I like was the strength that wool provides, while still giving some resistance to movement," said Saint Sernin. "The wool bodies are a culmination of research in vintage underwear and swimwear pieces, that were also more often than not produced in wool."