---
Selected from more than 300 applicants, representing 47 countries, this year's International Woolmark Prize finalists demonstrate the growing diversity of the global fashion industry and show promise in their commitment to innovative practices. Ahead of the global final in February 2020, we introduce you to the ten designers shaping the fashion industry today.
A-COLD-WALL* | UNITED KINGDOM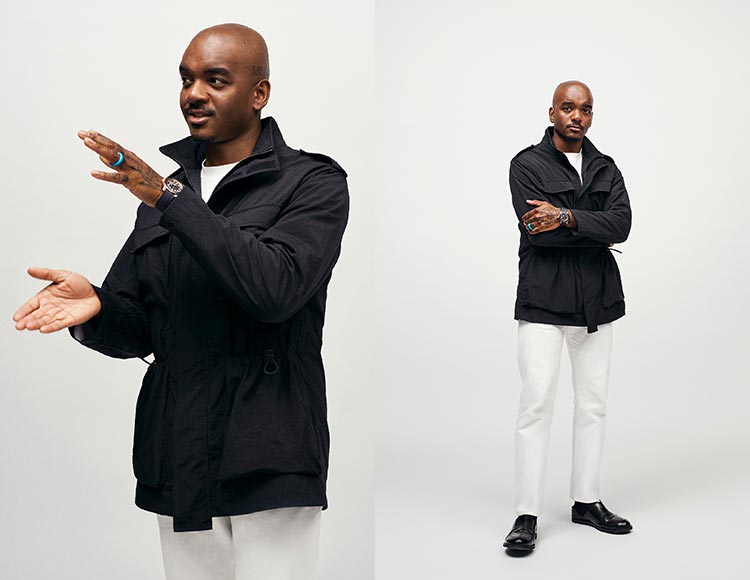 As a sartorial response to London street culture, Samuel Ross launched A-COLD-WALL* in the fall of 2015. Having studied graphic design and illustration, Ross creates handcrafted graphic garments that have a stark urbanity. His designs are born out of his surroundings, contemplating working class staples in the context of the current political disunity in Britain. A-COLD-WALL* has previously collaborated with brands, including Nike and Converse, to create capsule collections, as well as working with artists such as Daniel Arsham.
"By working with Woolmark, we want to access a pre-existing network of sustainable, traceable supply chains that could help better drive A-COLD-WALL*'s ambition to continually pursue sustainability across future collection development and production."
INNOVATIVE PRACTICES A-COLD-WALL*'s collections are moving towards using sustainable packaging, natural fibres, recycled nylons and organic, and vegetable-based dyeing.
STOCKISTS Selfridges, Browns, MatchesFashion.com, Dover Street Market, Lane Crawford, Smets, Galeries Lafayette, Le Bon Marche, L'Éclaireur, Harvey Nichols, Barneys, Ssense and Boon the Shop.
YEARS IN OPERATION 5.
BLINDNESS | SOUTH KOREA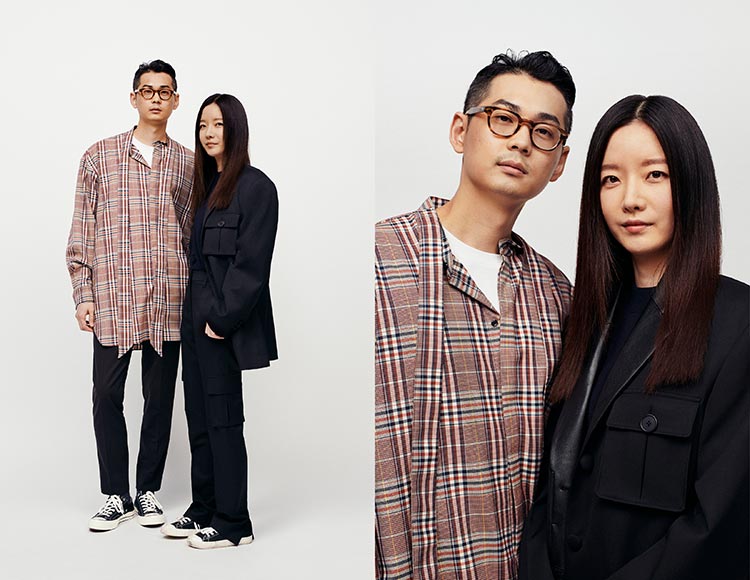 BLINDNESS is known for its gender-less, bold silhouettes, dramatic layers and lavish embellishments of pearls and frills. Instead of shying away from heavily gendered design elements, Shin Kyu Yong and Ji Sun Park blend these elements to create collections that are playful and subversive. BLINDNESS was founded in South Korea and made a name for itself as an ambitious emerging label, making its international runway debut with its spring 2019 collection at London Fashion Week.
"Through the International Woolmark Prize we will learn to use wool in different ways, experiment, and challenge issues such as how fashion is affecting our environment."
INNOVATIVE PRACTICES BLINDNESS is currently focusing on reducing its waste throughout the entire manufacturing process, from fabric to garment construction. The designers are committed to ensuring a safe environment for all people involved in the creation of their clothing.
STOCKISTS Barneys, Browns, Farfetch, I.T., Opening Ceremony, Dover Street Market and Boon the Shop.
YEARS IN OPERATION 7.
BODE | UNITED STATES OF AMERICA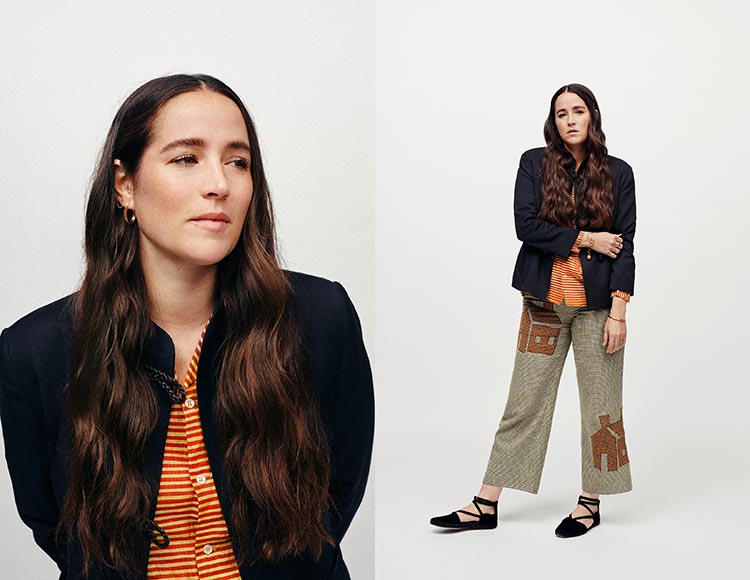 BODE is a luxury menswear brand that expresses a sentimentality for the past through the study of personal narrative and historical techniques. The brand began with a collection of one-of-a-kind garments composed entirely of antique textiles. BODE continues to explore fashion as a medium of storytelling by combining modern workwear silhouettes with the historically female-centric traditions of quilting, mending and appliqué. Its founder, Emily Bode, was the first female designer to show at the New York Fashion Week Men's and was a 2018 runner-up for the Vogue/CFDA Fashion Fund award.
"As a young brand whose focus is on the preservation of historical techniques and textiles it is an honour to be recognised by a company that similarly has strived to preserve the use and awareness of a historic fibre."
INNOVATIVE PRACTICES BODE's commitment to history has led to a sustainable practice from the brand's origin. BODE works with female-run factories in Peru and India that are dedicated to maintaining historical practices of textile production. In New York, these fabrics are supplemented with otherwise forgotten textiles such as bed linens, tablecloths and various domestic materials.
STOCKISTS Browns Fashion, Dover Street Market, Galeries Lafayette, MatchesFashion.com, Moda Operandi, SSENSE and WARE-mo-KOU.
YEARS IN OPERATION 4.
BOTTER | THE NETHERLANDS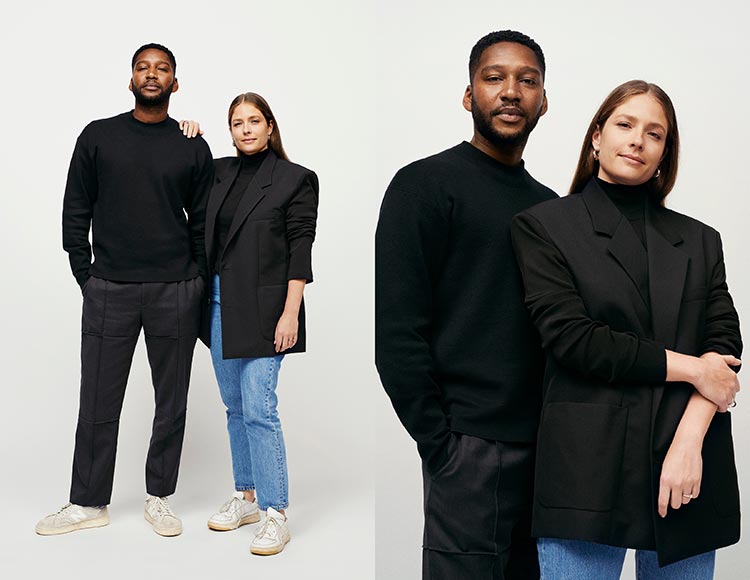 Rushemy Botter and Lisi Herrebrugh, the design team behind Botter, draw on their Caribbean roots to infuse their menswear label with sophisticated virility. Rushemy Botter's masters collection, presented at Amsterdam Fashion Week, won numerous emerging talent awards. Joined by Lisi Herrebrugh, the label won the top design award at the Festival d'Hyères in 2018. The next year the designers were picked up by the Puig Group and appointed as co-creative directors of Nina Ricci women's ready-to-wear line, showing their first collection for the French fashion house during the pre-fall 2019 season.
"We are very careful where we produce our garments; for example, we don't have a lot of back-and-forth sending of garments as we create all shapes and first toiles in-house, so we take time to work on the most economical placements of patterns on fabric."
INNOVATIVE PRACTICES Botter takes great care in the cutting of patterns to ensure minimal waste. The designers work with dead-stock fabrics as well as natural fibres that are biodegradables such as cotton, silk and wool.
STOCKISTS Smets, H.Lorenzo, The Icon and Henrik Vibskov.
YEARS IN OPERATION 3.
FENG CHEN WANG | CHINA & UNITED KINGDOM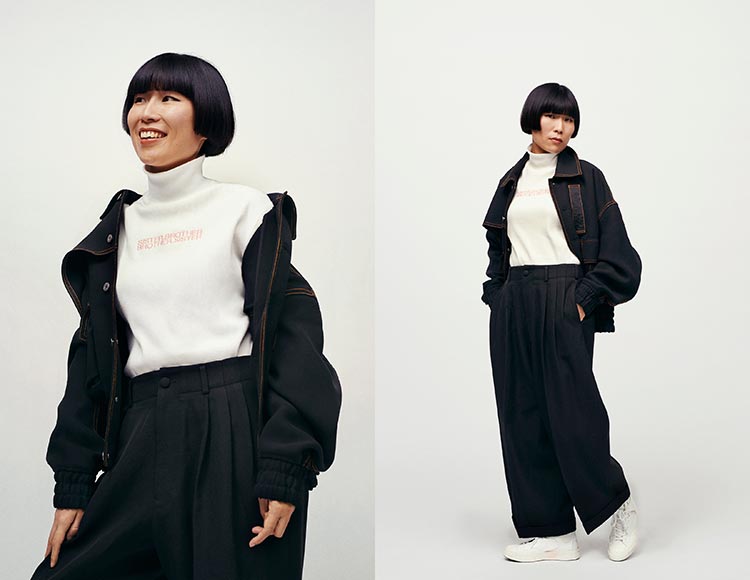 Feng Chen Wang is a Chinese-born menswear designer who graduated from the Royal College of Art, London in 2015. The brand focuses on creating technical outerwear and unisex clothing that is functional whilst also being conceptual and personal, drawing on the designer's life experiences. Wang has designed six collections to date, showing two at London Fashion Week Men's as part of the Lulu Kennedy scheme for emerging designers. In January 2019, Wang staged her first standalone runway at London Fashion Week and has collaborated with Levi's and Converse. The brand currently operates out of studios in both Shanghai and London.
"I'm very grateful to be accepted into the International Woolmark Prize alongside such a diverse and exciting group of designers. It's such an exciting award, and probably the only one that is genuinely concerned with research and development, which in turn protects our industry and our planet. It's extremely exciting and the support network and hunger for new, problem-solving design is really inspiring."
INNOVATIVE PRACTICES Feng Chen Wang predominately uses deadstock fabric in her collections and has often sourced entire second-hand garments to create new pieces, giving them new life. As of her spring 2020 collection, Fengchen has begun working with a local community which uses plant-based dyes instead of chemicals.
STOCKISTS Harvey Nicholas, Lane Crawford, Dover Street Market, SSENSE and H. Lorenzo.
YEARS IN OPERATION 5.

GmbH | GERMANY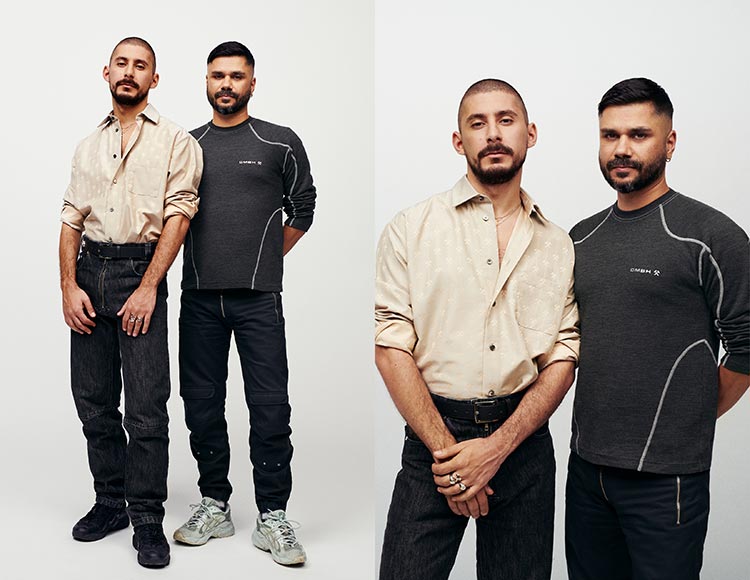 GmbH was founded in Berlin by Serhat Isik and Benjamin A. Huseby in 2016 as a project to use the medium of fashion to respond to current events in the world. Drawing deeply on personal experiences as children of immigrants in Europe, GmbH quickly gained a cult following for its sharply cut and modern silhouettes, with a strong story to match. Priding themselves on their unique shapes and construction, all patterns are cut by one of the two designers. This ensures that every garment, from a hoodie to a blazer, has a signature shape.
"Being a finalist of the International Woolmark Prize is exciting, opens new opportunities and gives a feeling that we are doing something right."
INNOVATIVE PRACTICES Being deeply concerned about the environmental impact of fashion, GmbH's first collections was made entirely from deadstock fabric. The designers strive to discover further design solutions to waste.
STOCKISTS MatchesFashion.com, Net-A-Porter, Browns, Anchoret, Barneys and Opening Ceremony.
YEARS IN OPERATION 4.
LUDOVIC DE SAINT SERNIN | FRANCE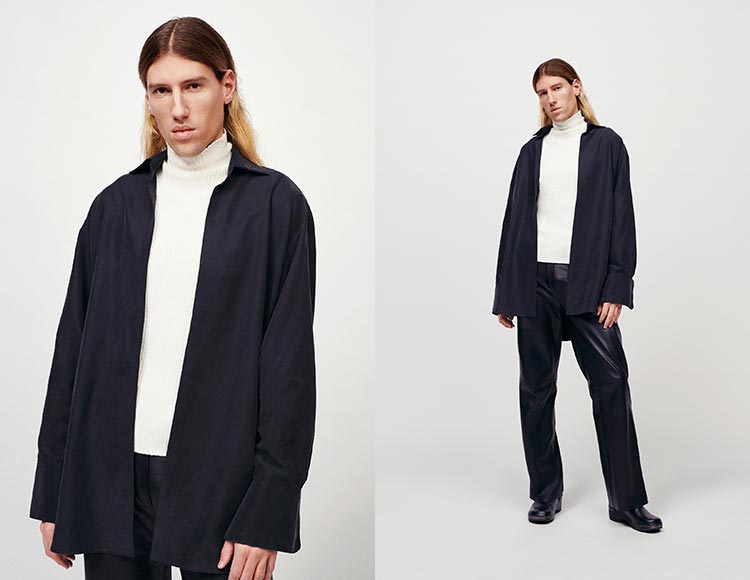 After graduating from Ècole Duperré Paris, de Saint Sernin joined Balmain, under the creative direction of Olivier Rousteing. After two years, he left to launch his own label which began with a characteristic mix of low- and high-brow references. De Saint Sernin designs with an exacting rigour, creating looks that are sexy, minimalistic and refreshing. In 2018, de Saint Sernin had his first show on the official Paris Fashion Week Men's calendar and won the ANDAM Creative Label Prize.
"Most of my collection is produced between the studio and small ateliers based in Paris. By keeping the production simple, it drastically reduces our carbon footprint and gives us full visibility of our ateliers and their work practices."
INNOVATIVE PRACTICES Ludovic de Saint Sernin believes in crafting the best quality garments that will be valued and will last for many years. To keep his label's carbon footprint minimal, much of Ludovic de Saint Sernin's collections are created between his studio and small ateliers based in Paris. It also gives him full visibility of his ateliers and their work practices.
STOCKISTS Godard, Galeries Lafayette, Machine-A and MatchesFashion.com.
YEARS IN OPERATION 3.
MATTHEW ADAMS DOLAN | UNITED STATES OF AMERICA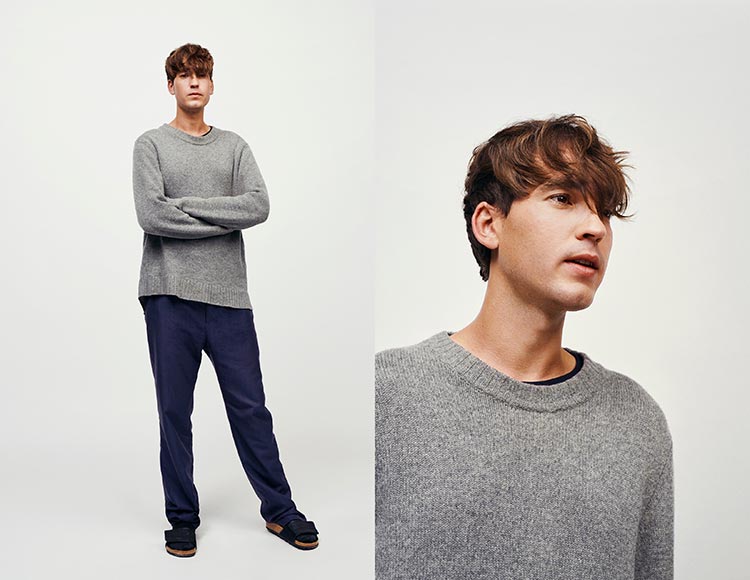 Taking cues from ideas of heritage and duality, the Matthew Adams Dolan label is a contemporary proposition of a new 'American Style' brought into the present through the use of exaggerated silhouettes, experimental proportions and forward-thinking craftsmanship. Matthew Dolan graduated from the MFA Fashion Design and Society Program at Parsons School for Design before launching his debut collection for Spring Summer 2016. His eponymous label is a reimagining of the modern American wardrobe, crafting garments for an inclusive and celebratory generation. Matthew Adams Dolan was nominated for the LVMH prize in 2018 and is regularly worn by celebrities such as Rihanna.

"It's very exciting to be part of the prize considering its history and the support and mentorship it provides. Regardless of the outcome, the support and mentorship that comes with the experience is invaluable."
INNOVATIVE PRACTICES Matthew Adams Dolan make great efforts to be conscious of the factories and suppliers with which he partners. They work with a number of sustainably-minded factories in Italy and are looking to incorporate more recycled materials.
STOCKISTS Net-a-Porter, MyTheresa, Moda Operandi, SSENSE, Opening Ceremony, Nordstrom and La Rinascente.
YEARS IN OPERATION 4.
NAMACHEKO | BELGIUM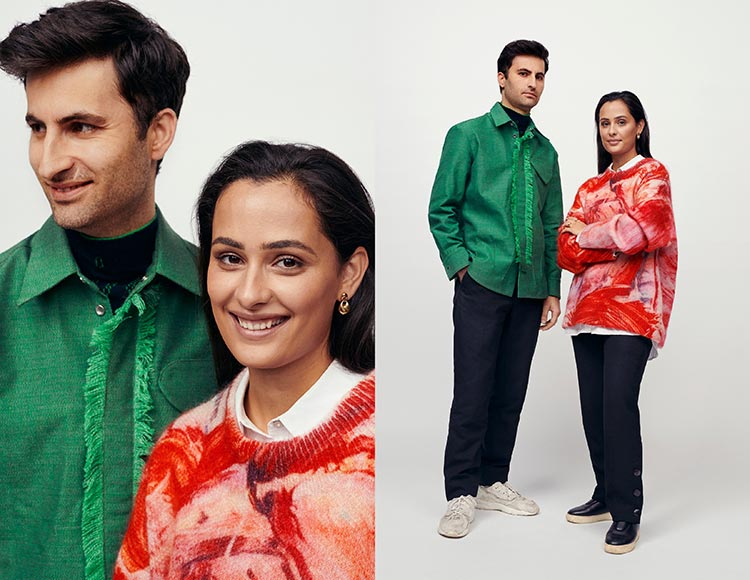 The sibling founders of Namacheko, Dilan and Lezan Lurr, were born in Kirkuk, Kurdistan and raised in Sweden. Namacheko was born from a place of internal curiosity, the search for cultural identity and purpose through two contrasting disciplines in the arts and science; before turning to design, both siblings studied civil engineering. This mathematical background informs Namacheko's tailoring, which mirrors the way architectural objects are constructed. Off the back of their first collection in 2017, an Iraqi bridalwear-inspired collection, they were invited to show at Paris Fashion Week Men's.
"We feel proud to be a part of the International Woolmark Prize. This is a seal of approval that we are doing something good. And feels in some ways very natural as we are already working with Australian wool."
INNOVATIVE PRACTICES Namacheko has worked with Merino wool, a 100% natural, renewable and biodegradable fibre, since its first collection.
STOCKISTS MatchesFashion.com, Dover Street Market, Totokaelo, SSENSE, Galeries Lafayette, Joyce and Tomorrowland.
YEARS IN OPERATION 4.
RICHARD MALONE | IRELAND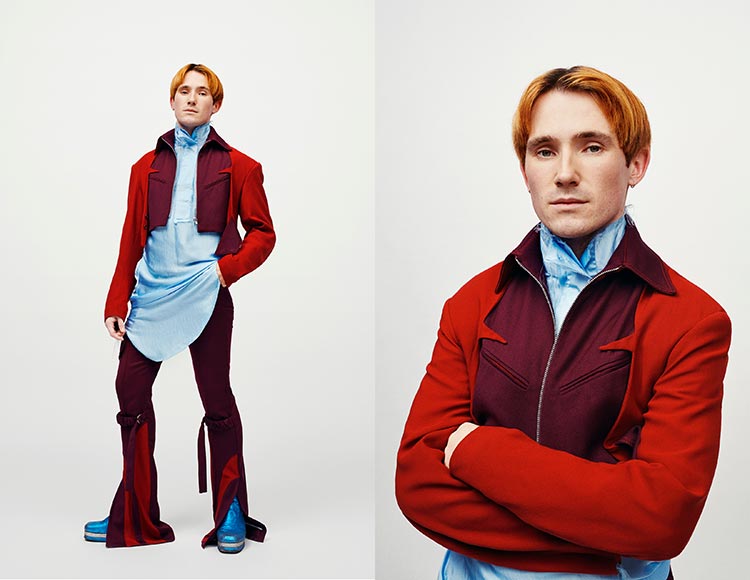 Richard Malone is an Irish designer working between Wexford, Ireland and London, having graduated from Central Saint Martins in 2014 with his entire graduate collection being bought by Brown Thomas Dublin. Malone has an unwavering commitment to sustainability and is strongly against the concept of mass production, often releasing collections in strictly limited numbers. His garments have become highly collectable and, in 2017, Malone was part of the Museum of Modern Art New York's first fashion exhibition in more than 60 years, entitled 'Is Fashion Modern?'. Following the show, Malone became one of the youngest artists in history to be added to the museum's permanent collection.
"We focus on many sustainable practices, from working with a handweaving community in southern India, which encourages and funds education and training, as well as using plant-based dyes and organic matters. Each jacquard fabric can be traced back to the weaver, and in turn how it was spun, dyed and woven."
INNOVATIVE PRACTICES Richard Malone uses GOTS-certified organic cotton, plant-based dyes, recycled nylons and organic matters. Malone believes that every piece needs to be special just to justify its creation. By keeping production very limited, each component of a garment and those who made it are tracked.
STOCKISTS Liberty London, Selfridges, H.Lorenzo LA, L'Éclaireur Paris, Galeries Lafayette Beijing, Hanstyle Korea and Nordstrom SPACE USA.
YEARS IN OPERATION 6.