---
Innovation does not only reveal itself in the form of ground-breaking product, or revolutionary processes. Each emerging design talent in the 2020 International Woolmark Prize showcased innovative thought practices in their approach to sustainability and their business.
From engaging with local suppliers and manufactures and moving closer to their supply chain, or rethinking packaging to ensure it is gentle on the planet, this year's finalists celebrate innovation in many ways, shapes and forms. Here, we highlight trends form the final collections, showcasing the innate versatility of our hero fibre, Merino wool.
Weather resistant wool

A-Cold-Wall*
Lightweight 100% virgin wool yarn is woven in a classic twill construction, reminiscent of decades past. Once woven, a PU membrane is laminated to the reverse providing waterproofing and wind resistance, whilst retaining the natural breathability of wool. A PFC-free and fluorocarbon-free water repellent finish is applied to the front-facing fabric for augmented weather protection and a leather-like appearance.

Matthew Adams Dolan
Positioning wool as a forward-thinking and sustainable textile, Matthew Adams Dolan explores the weather-proof and water-resistant properties of wool through both traditional boiled wool style yarns as well as developments in high-tech water and oil repelling yarns. Double-faced outerwear fabrics have been specially designed to enhance these natural qualities, while maintaining the luxurious feel and comfort associated with wearing wool garments.
Natural dyes and printing techniques

Blindness
Using the process of natural fermentation, Blindness worked with was able to take the indigo dyeing pigment from the plant and successfully dye wool fabrics and wool yarns. This process of natural dyeing also uses a significantly less amount of water then traditional dyeing methods, making it an eco-friendly alternative.

Feng Chen Wang
Working with a group of artisans from the local community, Feng Chen Wang extracted
natural pigments from a variety of flora and herbal teas to create a sustainable, natural and environmentally friendly alternative to chemical dye, which was then applied to deadstock untreated wool by hand.

Richard Malone
Working with a society of weavers in India, Richard Malone uses completely organic and plant-based dyes throughout his label. His International Woolmark Prize collection employs handwoven, traditional fabrics with organic and azo-free dyes, from protected farms that employ regenerative initiatives to sustain both jobs and the environment.
Extracts have been taken from the vembadam plant to produce a lilac colour, sky blue is achieved from the clitoria plant, marigold and myrobalan was used to complement the colour from the karungali plant and the wedlia plant produced luscious greens for the collection.

GmbH
Traditionally used for synthetic fibres, leading innovators in the textile industry have now applied digital printing to wool fabric, opening up new applications for wool. GmbH took advantage of this new innovation, taking a painting of the zodiac and night sky by artist artist Oliver Bijan and digitally printing this onto their jacquard knits which were spun with reflective yarn.
Digital fabric printing is where colour dyes are applied to a wool fabric surface through inkjet technology to produce a printed fabric. Its benefits include the use of environmentally friendly dye, less dye wastage with excess dye recycled, less water usage, varying concentrations of colour and intricate designs which can be applied to both faces of the fabric.
Recycled fabric and deadstock

Bode
Mixing deadstock found in abandoned factories, BODE beautifully marries the old with new to bring modern interpretations to traditions of the past.
For the International Woolmark Prize, BODE features overcoats and suits composed of reclaimed and remade equine show blankets, traceable and certified Merino wool jacquard knits inspired by stitch samples from a retired 1930s knitting factory, and housecoats built from hundreds of individually crocheted Merino wool fleurettes. Also featured are coats and bags made of Pennsylvania-woven wool based on classic turn-of-the-century jacquard coverlets; a historic fabric and weave originally produced solely for use in the home.

GmbH
GmbH explores the circularity of wool, eliminating waste from the design process and reusing fabric that may have been destined for landfill. Using recycled wool in coats and off-shoulder zip-up tops, GmbH shows how pre-loved fabric but be given a new lease of life.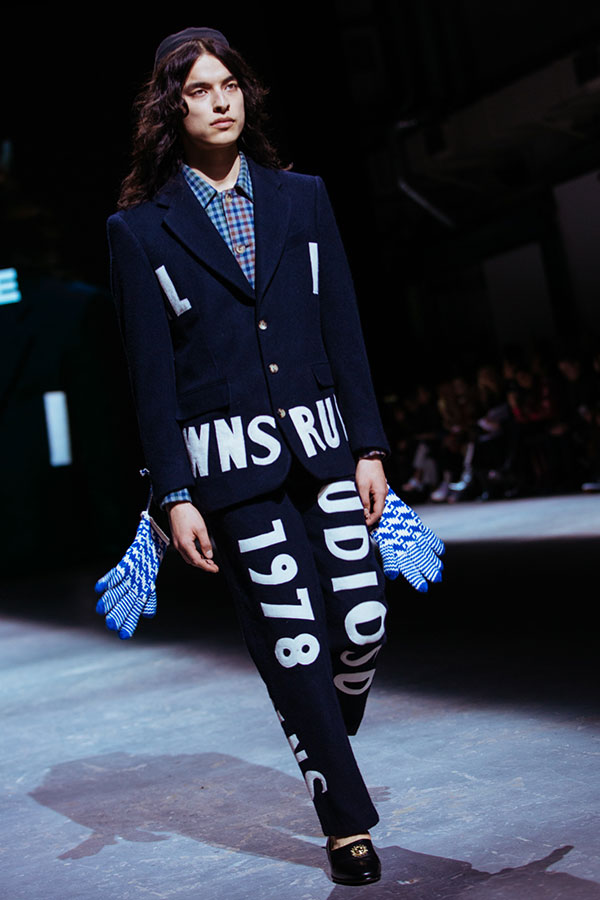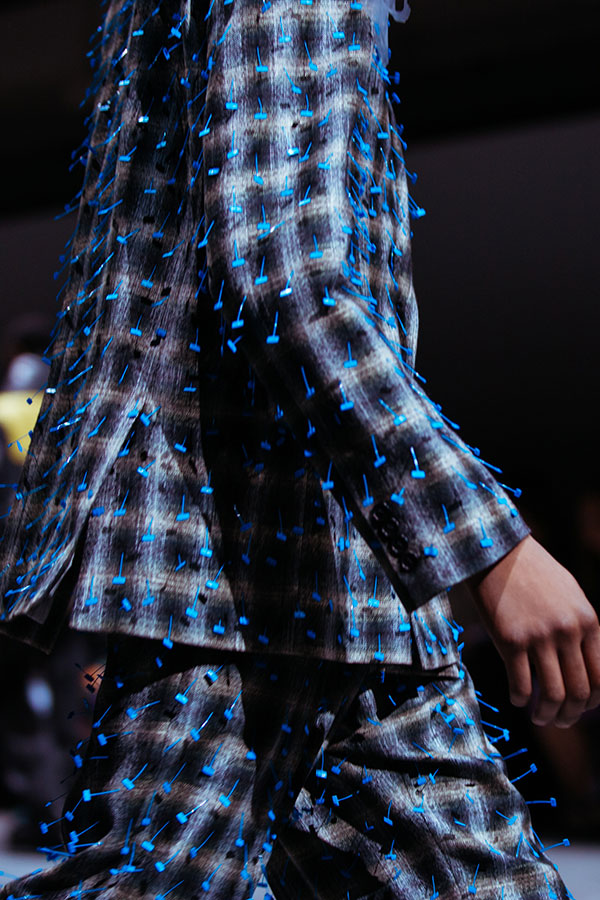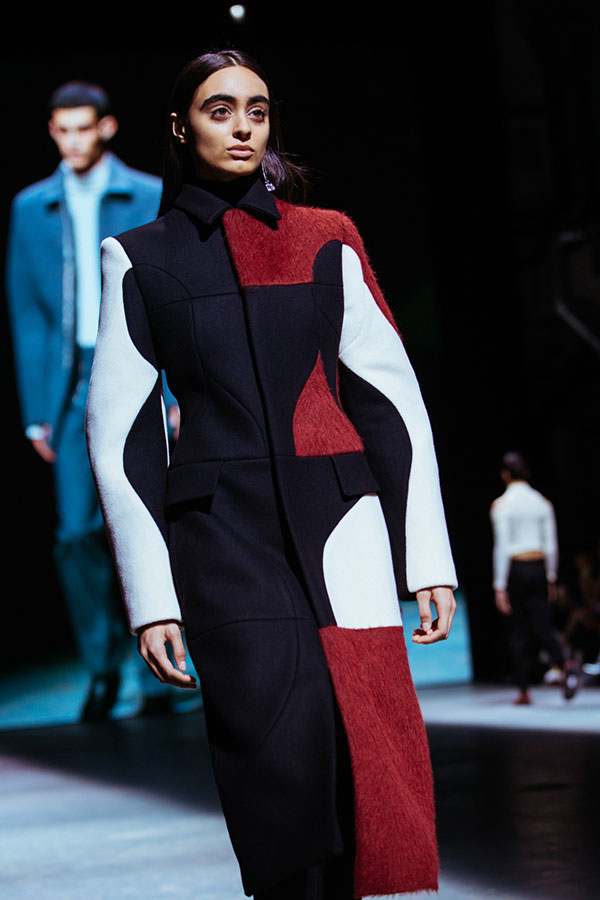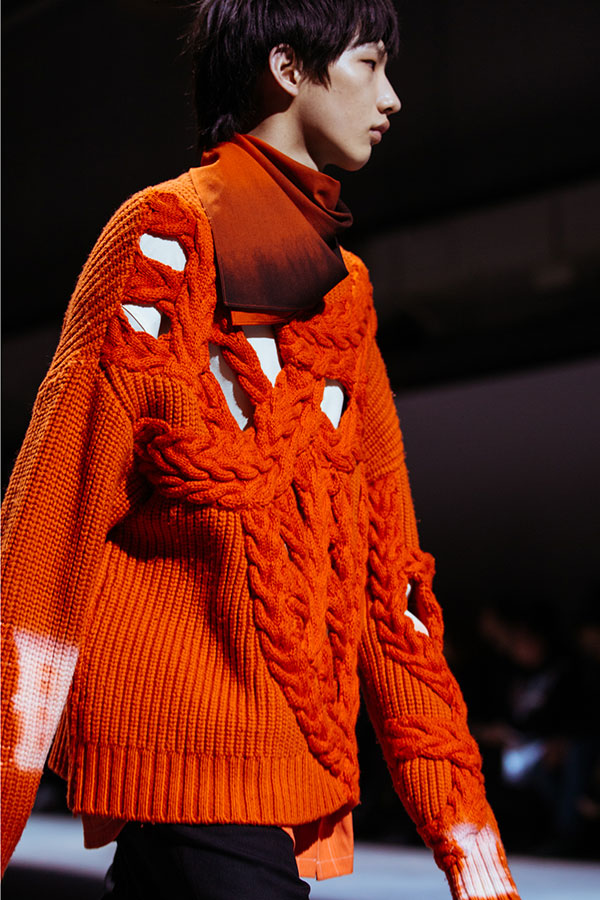 Namacheko
Namacheko's approach to innovation is portrayed through the use of surplus fabrics during the cutting process. Namacheko reuses offcuts to create the fundamental assets of a garment such as interlining or as textile decoration. By switching the synthetic materials with these offcuts, the consistency of natural fibres is ensured, and the waste of fabric is reduced to the possible minimum. With each and every remnant being unique it creates garments that are individual, with a different story behind each piece.
The knitting and fabric developments take inspiration from the lifecycle of the wool yarn and its creation, use and afterlife which is communicated throughout the collection in every look and piece. From spinning and combing yarns to twisting the fibres, they are all reflected in the textures and fabric developments. The afterlife aspect is recreated through the use of fabric remnants to apply as replacements for essential parts which traditionally use man-made materials.

Botter
Imposing their personal stamp on every collection, Botter places high value on the rethinking of materials and perceptions on them. In a tribute to the people of the Caribbean - who create beautiful things with what they have around them - Botter believes there is no need to develop new objects or materials when you can tell a new story by curating objects or materials together that start a new dialogue. Using recycled wool fabrics and materials which would usually be discarded, Botter highlights raw materials rather than keep them hidden, with couture shapes emerging from traditionally classical silhouettes.
Natural alternatives

Botter
With an emphasis on natural beauty, Botter uses wool in unexpected ways. Its Lammy coat is made from 100% wool wadding, a natural alternative to traditional synthetic or down, with the coat pulled apart to have the wadding on both the interior and exterior rather than relegated to the inside of the jacket. Off cuts of wool wadding also appear on the outside of a duffle coat, this time applied using needle punching to achieve flower patterns and different textures.

Ludovic de Saint Sernin
The Ludovic de Saint Sernin brand has become synonymous with a sexy minimalism and he wanted to bring this to the world of wool. The eyelet brief - which quickly became a signature of the brand - has been reimagined, hand crocheted in Merino wool. When looking at the history of underwear, wool was the dominant medium and Saint Sernin was excited to see how his most identifiable piece would perform in wool. What he likes was the strength that it provides, while still giving some resistance to movement.
The collection's main pieces are a culmination of research he has made in vintage underwear and swimwear pieces, that were also more often than not produced in wool.
Wool for wellness

Feng Chen Wang
Feng Chen Wang draws inspiration from traditional Chinese medicine to show how garments can contribute to wellbeing and mindfulness in fashion. With the help of a traditional Chinese doctor, Wang utilised maps of the meridian system, which is about a path through which the life-energy known as 'qi' flows.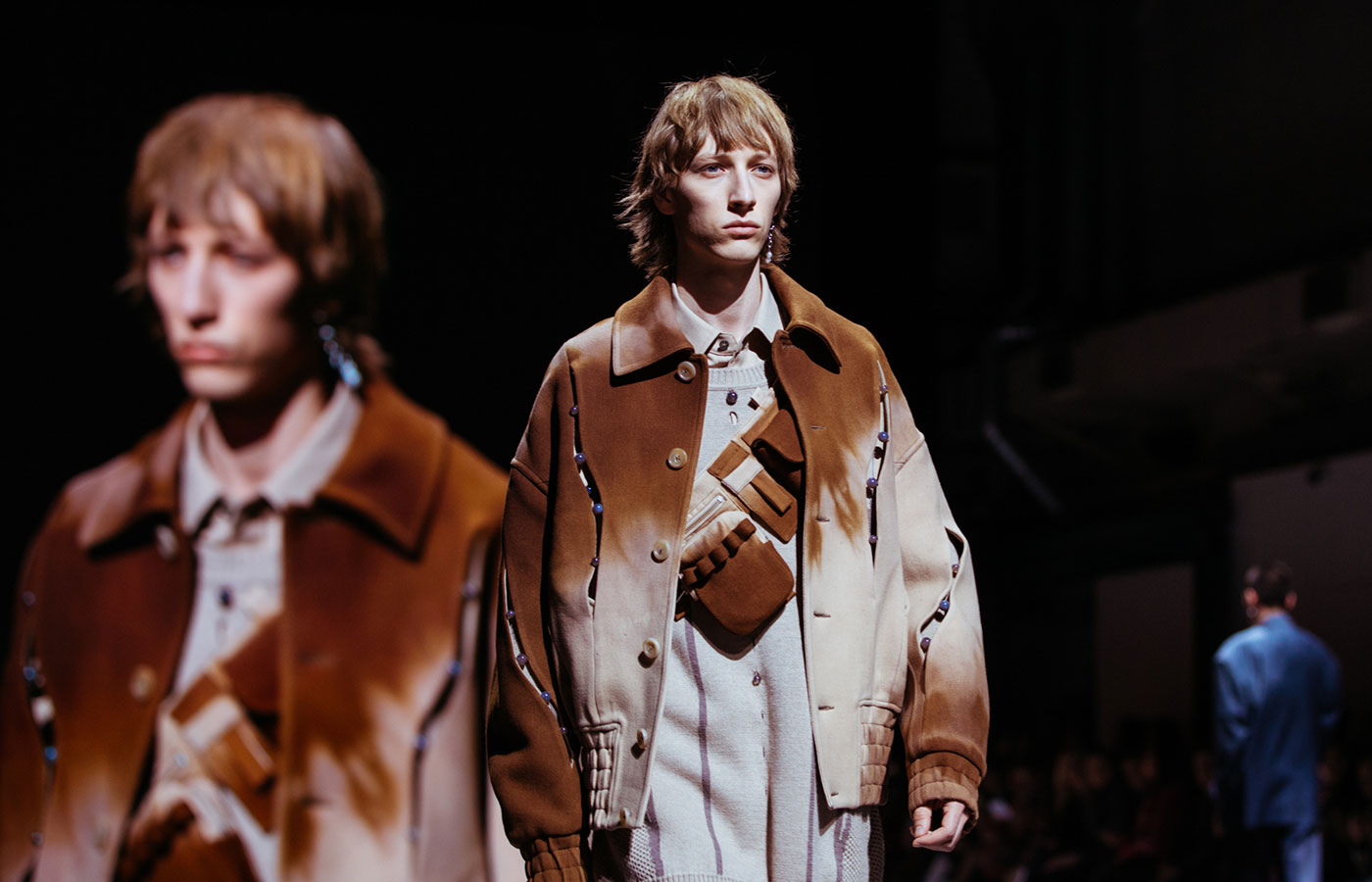 Clothes are also embellished with gemstones such as jade and agate, placed at pressure points aimed at fostering physical and mental wellbeing, specifically reducing stress. Functional yet conceptual, Feng Chen Wang's International Woolmark Prize collection was created with a sense of harmony and hope in mind, both with the natural world and the human body.
Investment in local communities and handcrafts

Bode
Bode's approach to innovation is through storytelling, the reuse of historical textiles and techniques, and the preservation of craft. Each garment produced retells a narrative of female-centric handwork and celebrates the histories of makers in and out of the domestic space.
Committed to partnering with family-operated factories and mills across all areas of production.

Feng Chen Wang
Worked with local artisans that support traditional craftsmanship and the local economy.
Herbal teas - known for medicinal benefits and used to create pigment for the tie dye technique - using natural, locally sourced plants from a sustainable source which does not pollute the environment.
With the help of a traditional Chinese doctor, Wang utilised maps of meridian pathways which run throughout the body and transport life energy.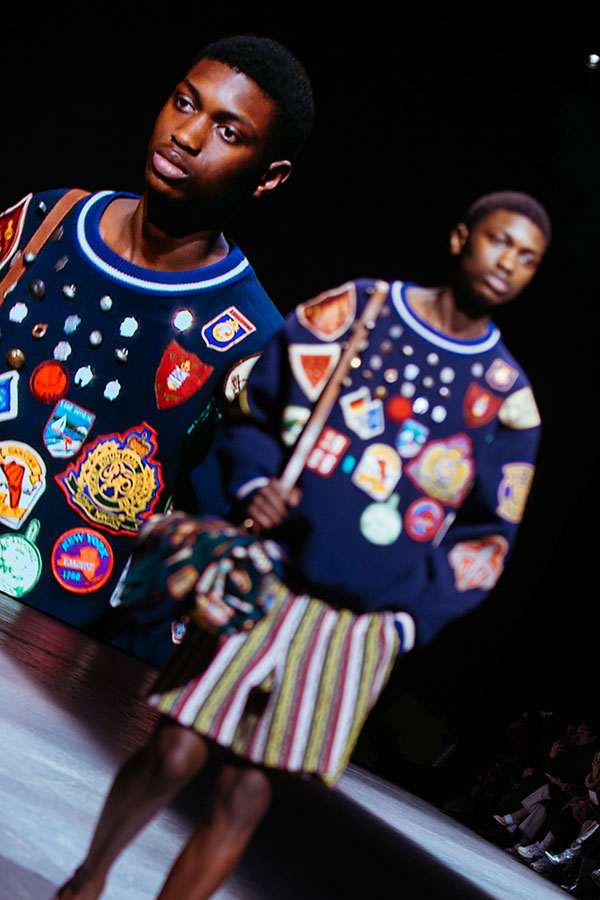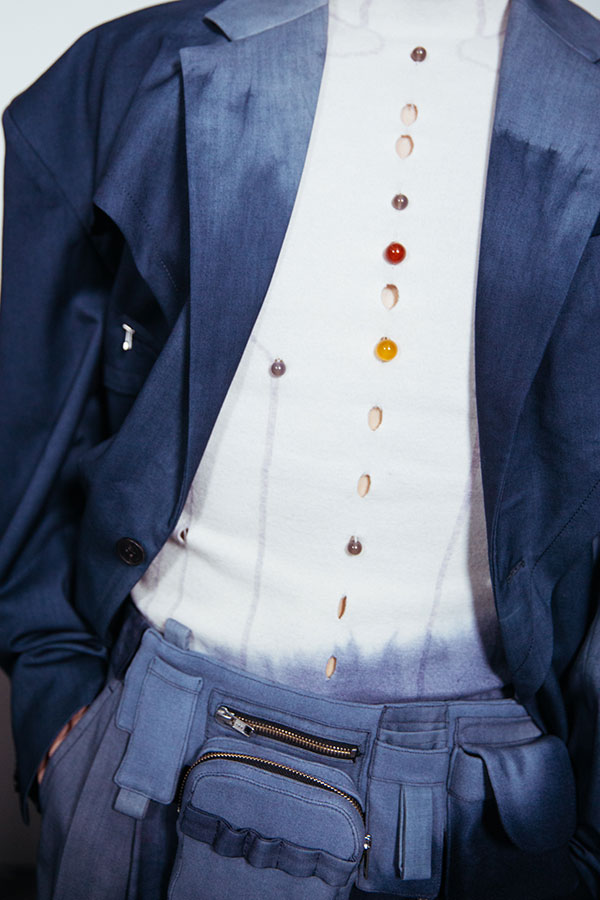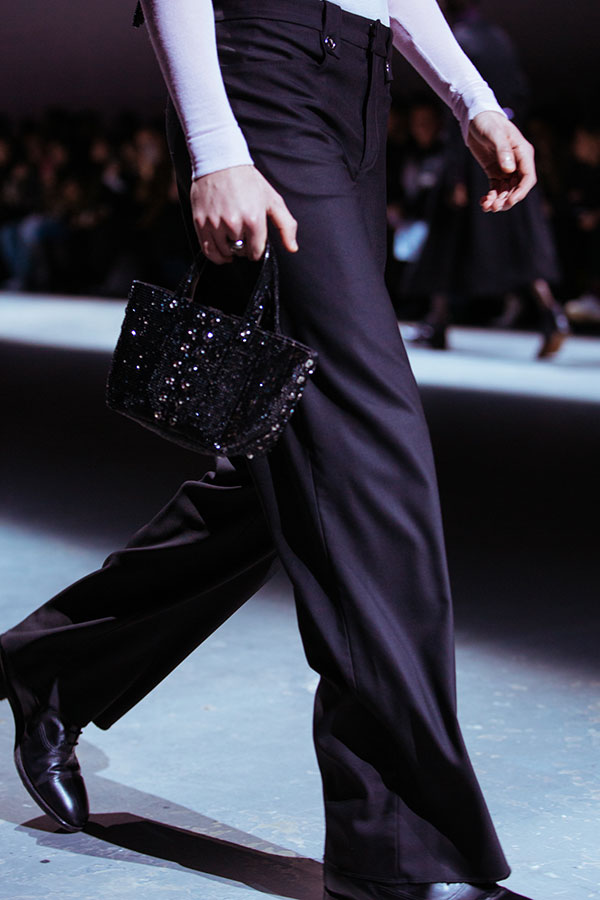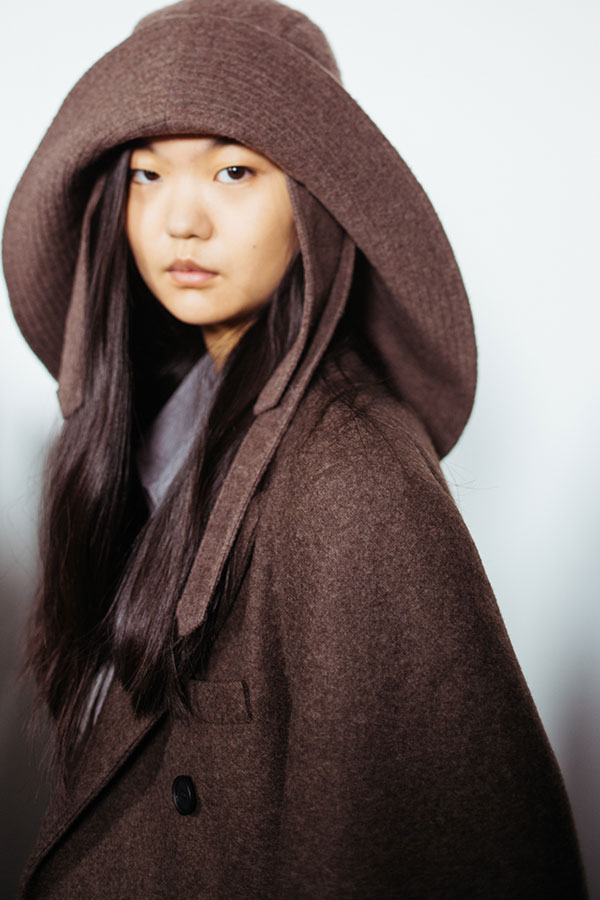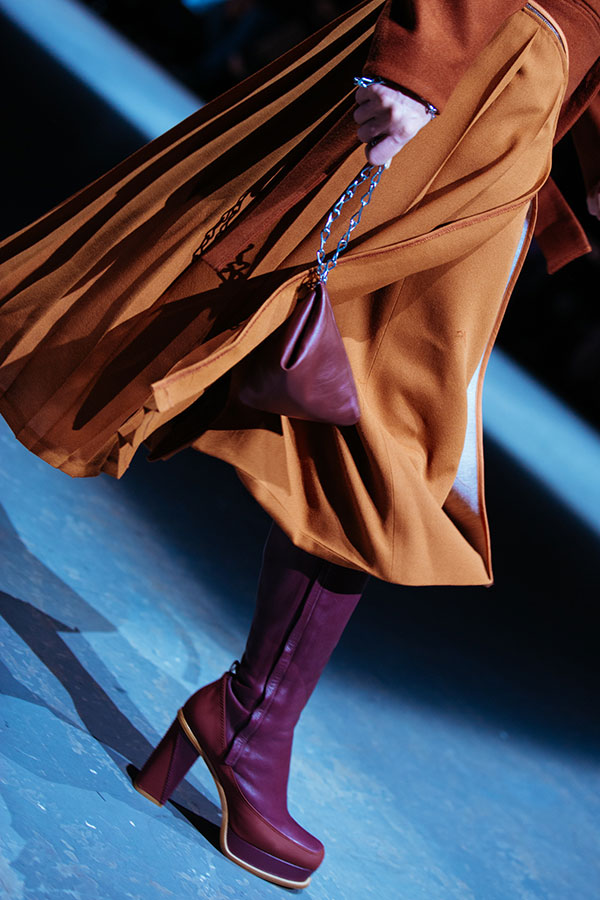 Ludovic de Saint Sernin
Made in France has been a very important component of the LdSS brand. It means there is a very real traceability journey and the ateliers he works with in Paris become extended members of the LdSS family.
All yarns sourced from Italy and fabrics are from Italy or France.

Matthew Adams Dolan
Relocated to Italy to be closer and work more seamlessly with manufacturers and the mills, placing an emphasis on local and centralised sourcing, manufacturing and distribution processes.
The brand explores the craftsmanship of 'Made in Italy' and the storied legacy of fine suitings and tailoring, sourcing all fabrics from leading Italian wool mills, such as Botto Giuseppe and Tollegno 1900.
Collection pays homage to another Italian textile tradition, with the geometric designs of Bargello woollen needlepoint, historically used as a means of creating durable upholstery, used to create structure and graphic distorted stripes throughout the collection.

Richard Malone
Worked with a society of incredibly skilled weavers in Tamil Nadu, India, using completely organic and plant-based dyes as well as more recent innovations using Merino wool and other conscious fibres.
Working to sustain these communities and prevent the craft and tradition that extends generations from being lost, as it was in Malone's hometown of Wexford.
Working exclusively with weavers or mills that have regenerative initiatives.