---
Meet the six emerging designers selected from 380 applications from around the world to compete in this year's International Woolmark Prize.
The International Woolmark Prize has changed with the times since the 1950s, though this year, perhaps more than ever, there has been an overwhelming impetus to adapt. The Woolmark Company has reflected on how we can better build sustained careers for emerging designers from across the world, and in our commitment to continuing the legacy of the Prize, the following six designers have been selected from 380 applicants by an expert Advisory Council to present their collections at an international fashion week in 2021.
Each designer has received AUD$60,000 to carefully develop their Merino collections, keeping in mind the focus of this year's prize, Less is More, celebrating responsible production and craftsmanship. The designers have also begun their work in the Innovation Academy, The Woolmark Company's intensive mentoring program, which this year is in its most robust form, with exclusive supply chain support and business guidance, online webinars, resources and real-time global intel to support sustained business growth. With traditional models of continual creation, production and consumption no longer relevant in the 2020 world, these six designers, through this program, have no choice but to create their own models of success. These are the finalists:

MATTY BOVAN, UK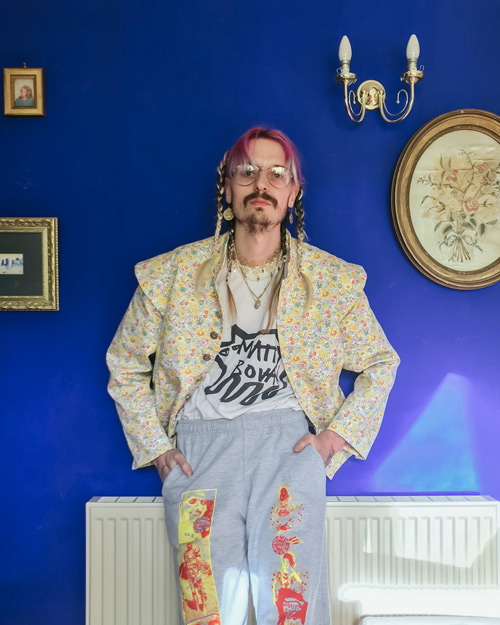 Matty Bovan's namesake brand centres on dystopian play, sincerity, and craft. Known for his experimentation, the UK based designer is trained in knitwear, and blends convention in dress as much as he does yarn, with protruding and irregular forms masquerading as regular garments the result. With these garments, Bovan looks to question the purpose of clothing and fashion itself.


"The International Woolmark Prize is the perfect fit with the rudiments of my brand, spawned from my love of knit and the infinite permutations you can achieve with it."
Less product, more play
The Matty Bovan brand has focused on using dead stock fabric, end of line materials, and yarns, as well as studio off-cuts since day one. By working this way, a criticism of mass production is brought to life with playful and wholly unique garments – reflecting perhaps the purest form of luxury. Bovan is able to do this is by working extremely closely and collaboratively with his tight network of UK factories and Italian weavers, reflecting a supply chain that's intentionally local and short, keeping waste extremely limited and materials sourced in the most ethical of ways.
Every element of Bovan's work is touched by hand, and often does hand knitting, machine knitting and crochet in the studio himself, using, of course, deadstock and leftover yarns from previous seasons. Wool is used in its pure form and in fanciful blends, and many of the trims and accessories feature found items and reappropriated objects.
CASABLANCA, France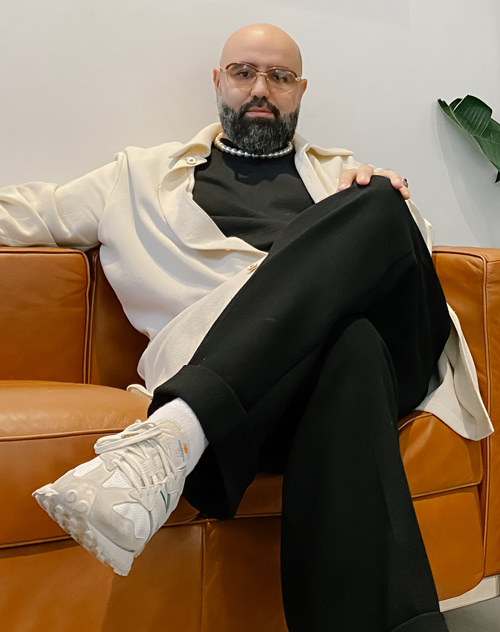 Founded in Paris in 2018 by French-Moroccan designer, Charaf Tajer, Casablanca's aesthetic is full of colour, story and luxury with original paintings and prints incorporated into silks, denim and wool textiles each season. Relaxed sportswear-inspired silhouettes thrive in the Casablanca atelier, which are, on occasion, refined with slick Neapolitan tailoring techniques.


"I am honoured to be a part of the International Woolmark prize and to be among the very talented designers building a great legacy."
Less hype, more history
Within the­ space of two short years, Tajer has garnered immense attention for his work, so much so that the menswear brand decided to introduce womenswear in July, 2020. While moving into a new stage of growth, Casablanca is ardently focused on building longevity though lasting and timeless garments; cherished pieces worth taking care of.


"Having the support of Woolmark will enable the team to access invaluable knowledge of past, present and future innovations as well as practical advice in order to help us achieve truly exceptional work."

Casablanca approaches textiles in unconventional ways, using wool as a fur-alternative for high-impact coats, and as a natural alternative to synthetic materials for sportwear. Tajer is also looking into using recycled wool in future work, and restricts the use of cardboard packaging while forbidding the use of all plastic in processes. The young brand is also dedicated to giving back by choosing to donate a full day's worth of online sales each month to meaningful purposes, most recently the NAACP.
KENNETH IZE, Nigeria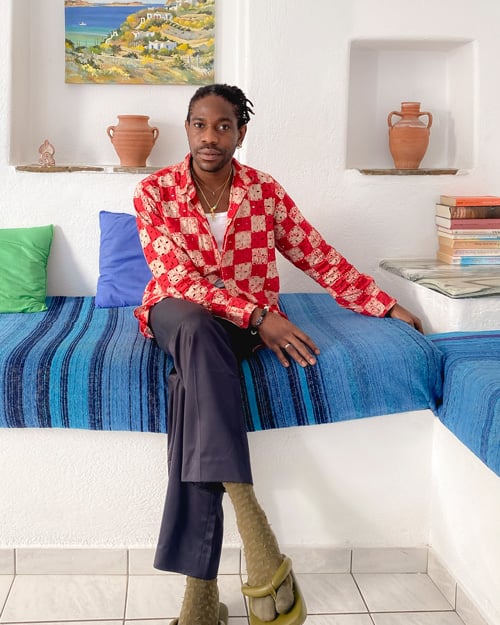 The namesake brand by Austrian-Nigerian designer Kenneth Ize focuses on reinterpreting Nigerian craft to decentralise ideas of luxury within the textile and fashion industries. By choosing to work with a variety of artisan and design groups across Nigeria, including a small community of weavers, Kenneth Ize merges a new design aesthetic with a specifically local handcraft practice. And this unique perspective has paid off, garnering Ize a spot at Paris Fashion Week in September, 2020, and an official collaboration with the Karl Lagerfeld brand.


"We are focused on telling our stories and celebrating our talents."
Less electricity, more power
The Kenneth Ize brand is built on supporting local artisans and their communities; an approach centred around one weaving practice in particular, aso oke. Ize is determined to keep this centuries-old technique alive in his collections, which involves a process that doesn't require any electricity to create – just fabric, peoplepower and generations of know-how.


"The work we do at Kenneth Ize goes beyond ourselves and extends to the communities we work with. When we are recognized, they are also, and that remains the motivation for us."

By promoting Nigerian and African artisanship to the Western fashion world, Kenneth Ize is determined to expand the industry for the better, all while celebrating tradition and empowering entire communities of creators.
LECAVALIER, Canada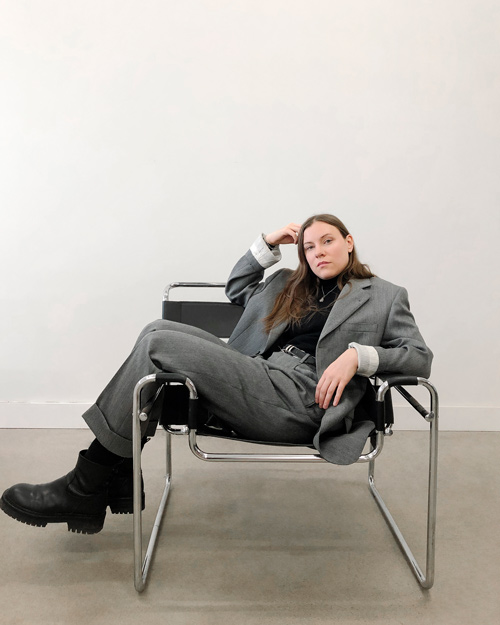 Marie-Ève Lecavalier is the driving force behind Canadian brand LECAVALIER, which mixes storytelling with meticulous research; craftsmanship with psychedelia. By reflecting on her own youth spent in the working-class suburbs of Montreal, Lecavalier's garments sit at the junction of functionality, luxury and sustainability, all from an authentic and grounded viewpoint.


"By winning the International Woolmark Prize, we would be able to satisfy the growing demand for intelligent, circular and impactful products by expanding our ethical supply chain system of artisans across the world. This will bring fuel to redefine the luxury of tomorrow."
Less elitism, more pragmatism
LECAVALIER is a manifestation of perseverance and determination, proving that an emerging designer can be both innovative and sustainable. Noble textiles have always been at the core of LECAVALIER collections, with wool used in locally produced, loose-fitted tailoring and knitwear. From nearby tanneries, the designer sources leathers that have been rejected for minor defects by larger fashion companies, which has served to supply the development of a LECAVALIER-trademarked method of leather knitting; a technique the brand has become known for and one that Marie-Ève is looking to develop with other materials.


"Sustainable supply chains, radical transparency and inclusiveness are the norm and characteristics of the brand."

Upcycling is also used prolifically in the Lecavalier atelier, contributing to the brand's zero-waste policy. All production and sampling offcuts, trimmings and overstock are used for hang tags, dust bags or wholly new garments.
THEBE MAGUGU, South Africa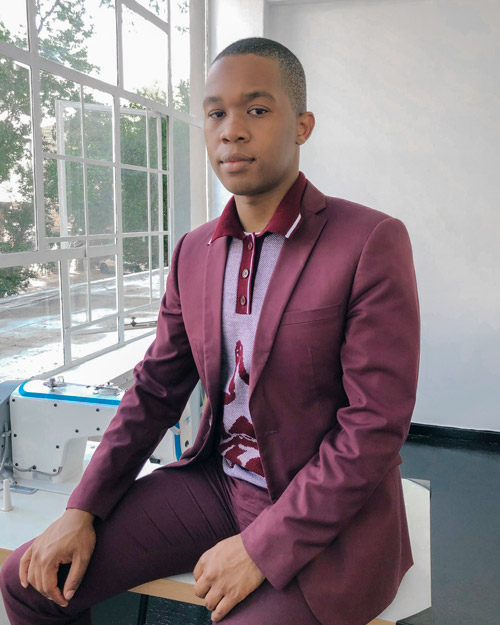 Based in South Africa, Thebe Magugu is on a mission to elevate the view of African fashion through his clothing, which is equal parts modern, culturally rich and optimistic. With a vision for single-country production, the Thebe Magugu brand, founded in 2016, is stridently committed to contributing to South Africa's - and the continent's - rising promise and prestige though design.


"I have always felt like education [not only formal but experimental] is critical to the growth of any brand, so gaining access to the variety of programmes, seminars and learning resources further elevates my brands back-end and strategy, and the financial implications of winning would enable me to further allot machinery to the business and further employment for my local community, which was - before COVID - at a staggering 30% unemployment rate."
Less logistics, more livelihood
Thebe Magugu sees an inherent sense of sustainability in African culture – whether its ideas of circularity or the naturally slow, hand-worked output. The brand's mission is to sustain its production in South Africa, create stable employment for challenged communities the country and contribute to the wider creative community. It's for this reason the designer also founded Faculty Press, an annual zine dedicated to capturing key moments, people and ideas in South Africa and the greater diaspora.


"The recognition of having participated in such a prestigious award means more opportunities for the brand, which is especially exciting because I get to essentially collaborate and give further rise to the brand while exposing the beauty of the continent and the craft it bears."

A storyteller at heart, Magugu garments ooze confidence, personality and honesty, and all come with a traceablity chip, which, when in contact with a smartphone, reveal the composition details of the garment, the collection inspiration, how it was made and all the people who it passed through in its manufacturing journey.
BETHANY WILLIAMS, UK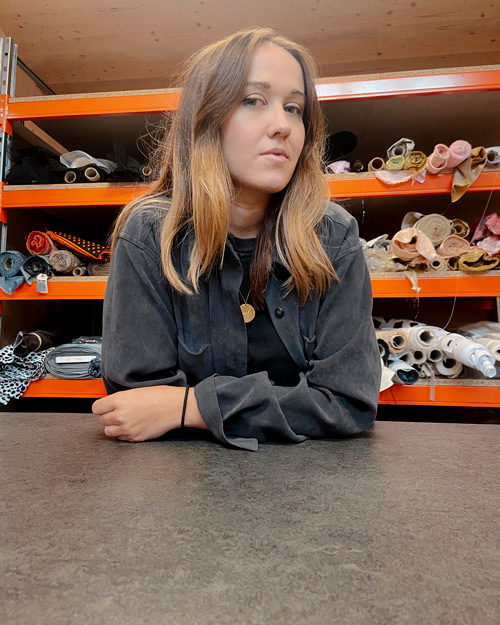 Nothing is created in the Bethany Williams London atelier without deep consideration and purpose, as the designer recognises the influence and impact fashion has on the world and sees how every choice, no matter how small, can create positive change. Indeed, the entire structure of the brand is about demonstrating a vision of a socially and thoughtful fashion system, where production, profit and purpose are all aligned.


"It would mean the world to me and my brand to win the International Woolmark Prize, the mentoring and financial assistance would be invaluable and really help grow our company sustainably."
Less convention, more community
Bethany Williams London embeds social engagement with community organisations into the collections themselves. Each season, handwoven textiles are developed from a range of recycled and waste materials at San Patrignano, a rehabilitation and education programme for people with drug and alcohol dependency in Rimini, Italy. Meanwhile, Jersey pieces are made by women from the Making For Change program, a London-based social enterprise providing meaningful employment for serving and recently released offenders. This unique supply chain means that each and every garment contributes positively to the world; presenting an entirely new model for how a fashion brand can operate.
Born on the Isle of Man, a small island between England and Ireland, Bethany Williams maintains a strong connection to her home though the brand's knitwear staples, using techniques Bethany was taught by her own grandmother. Despite the attention, accolades and growth the brand has seen, Bethany Williams London knitwear is still produced by the designer's own mother and a network of independent knitters on the island, all with recycled jumpers and yarns.

Discover the Advisory Council