---
Celebrating slow, responsibly produced fashion and craftsmanship, our six finalists push the boundaries of wool while keeping sustainable practices at the fore.
This year's International Woolmark Prize finalists are the future of fashion. Conscious of the world around them, these designers consider the entire sum of their output, not just the final product. They invest heavily in local manufacturing and collaboration in an effort to elevate traditional crafts and foster communities. They give new life to discarded pieces. And they're making their mark with digital prints and new textiles.
Re-thinking Waste

Matty Bovan
Matty Bovan kept his production small and local, allowing him to take small offerings of materials to create limited runs. All remnants from past collections are kept in his studio to be repurposed. The apron (pictured below) is made from Woolmark-certified deadstock duffle that is screen printed and hand painted in-house by the Matty Bovan Studio.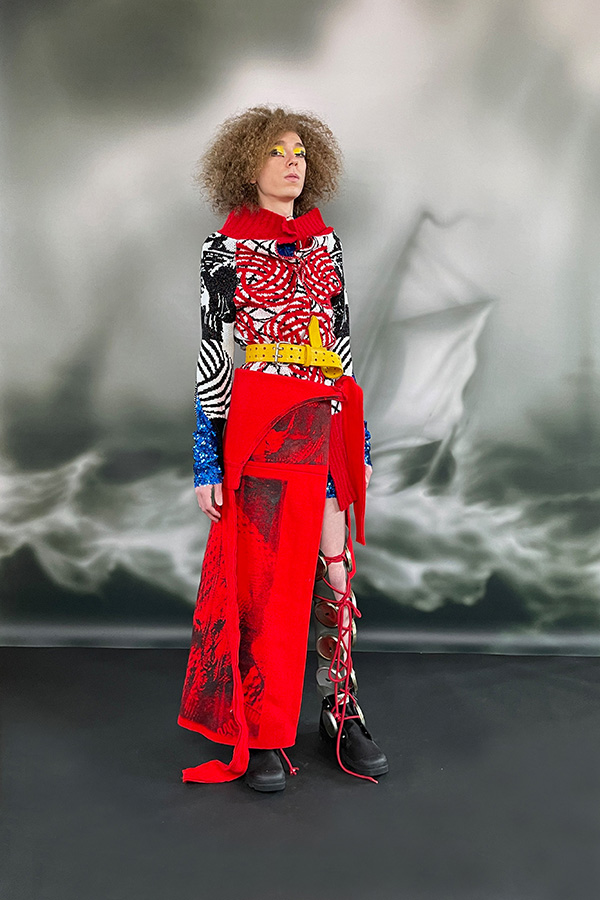 Bethany Williams
This entire ethos of Bethany Williams eponymous label is focused on creating social and environmental change. For her Woolmark Prize collection, Williams rescued waste book covers to develop a new textile. The waste was first shredded with an electric guillotine before being woven on a hand loom with 100% Merino wool.
Williams has also integrated waste into her knitwear production through patchwork and crochet, using sample swatches leftover from past seasons. The rest of the collection is made from deadstock material from Ermenegildo Zegna production lines. Williams employs screen printing techniques to create new stories with this waste and uses non-toxic inks and environmentally neutral fixings to ensure the minimal impact on the environment.

LECAVALIER
LECAVALIER is well known for its unique weaving technique using upcycled leather. The International Woolmark Prize inspired the brand to develop a wool solution, as leather deadstock may not always be available. Using wool cloth, LECAVALIER was able to create beautifully intricate graphic cut outs and lacing that utilise all excess fabric within woven pattern.
Bethany Williams' sweater vest created from sample swatches from past seasons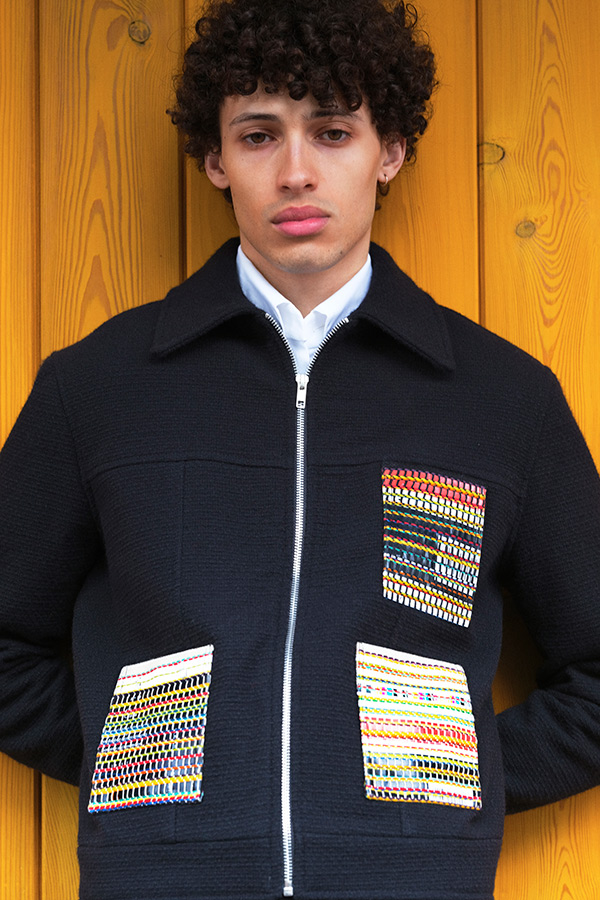 Bethany Williams' jacket pockets from book waste and suit made deadstock material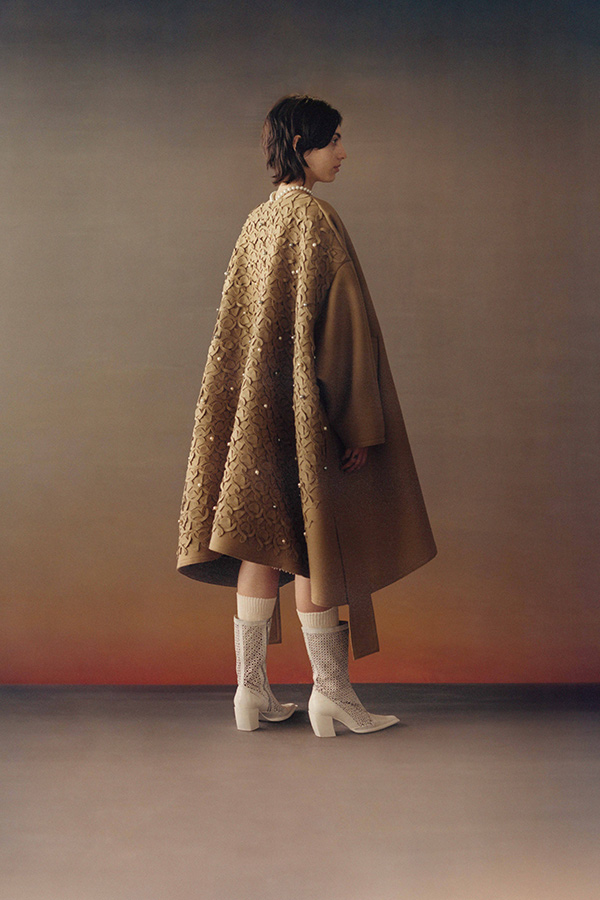 LECAVALIER signature zero waste weaving technique
Printed Patterns: digital and historical

THEBE MAGUGU
African skills and prints are taken from local to global through THEBE MAGUGU's International Woolmark Prize collection. The panelled dress depicts the finger painting of the Surma people from Ethiopia, who paint their bodies to imitate the animals they interact with. The wool suiting in the collection bears a digital print inspired by the work of a traditional healer, Noentla Khumalo, based in Johannesburg.

Casablanca
Casablanca brings positivity and beauty into the world of fashion through the label's loud, joyful prints. Charaf Tajer's Woolmark Prize collection was inspired by the daytime aesthetic of Formula 1 sportswear combined with the late-night glamour of the casino. The 3D knit jacquard was woven by BYBORRE and embroidered by Mariana Baertl, a fibre artist based in Lima, Peru.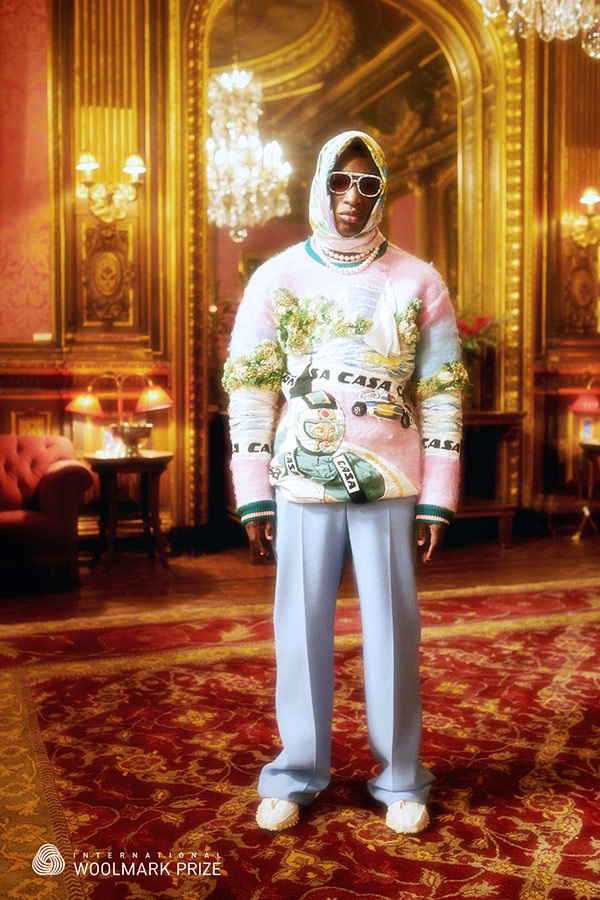 Casablanca's digital printed knit.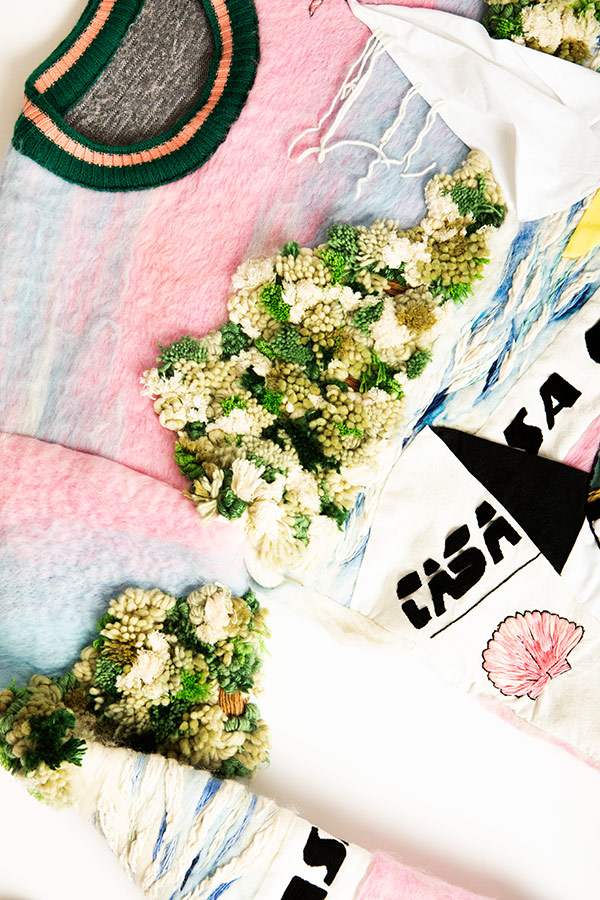 Close up of Casablanca's digital printed knit.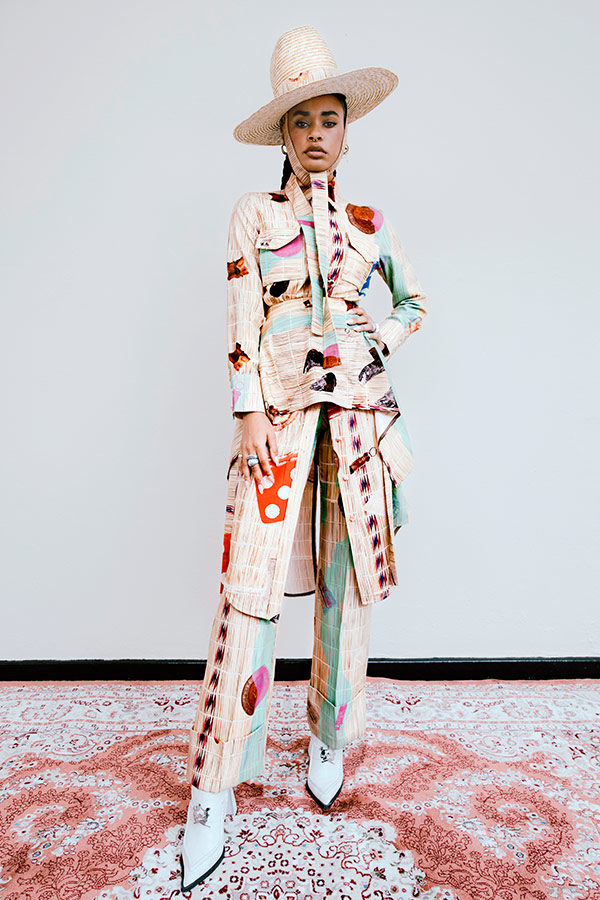 THEBE MAGUGU's suit digitally printed with a print inspired by traditional healing practices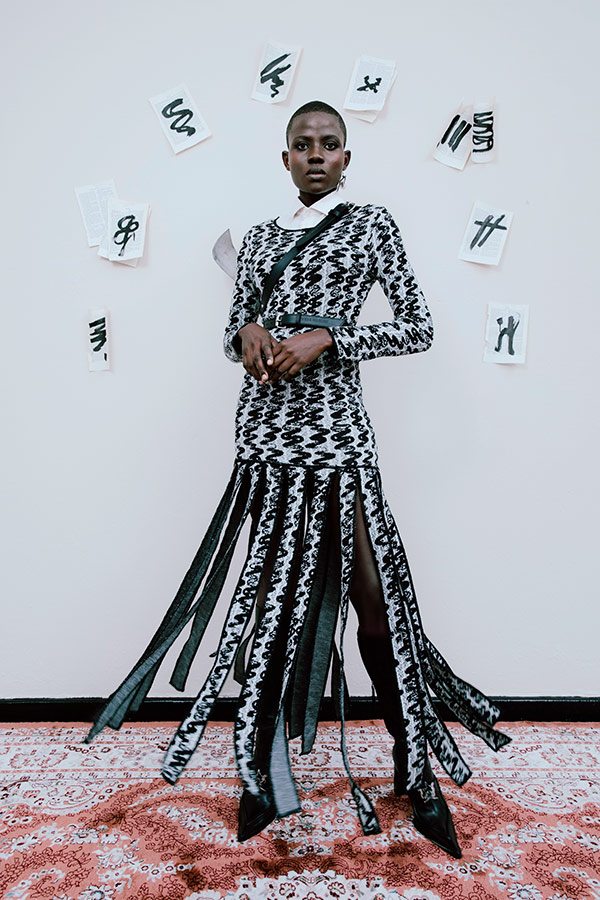 THEBE MAGUGU's panelled dress depicting finger painting of the Surma people from Ethiopia
New textiles

Kenneth Ize
The community of Aso-oke weavers that Kenneth Ize works with were introduced to Merino wool for the first time to create his namesake label's Woolmark Prize collection. The weavers combined Merino wool yarns and Nigerian-spun rayon to create an innovative wool crepe fabric.

LECAVALIER
To avoid the heavy pollutants required for traditional denim manufacturing, LECAVALIER developed a denim-looking knitted fabric with Merino wool yarns. LECAVALIER discovered a more sustainable alternative to denim, without the dyeing and multiple washes, to reduce water wastage.

THEBE MAGUGU
Collaborating with innovative knitwear design studio Byborre, the Scarification Jacket is an homage to the scars worn by the traditional healers of South Africa. Mimicking scarified skin, the raised surface also doubles as braille for one of Magugu's favourite African proverbs: "What you do to your ancestors, your children will do unto you".
Magugu has also used 3D knitwear on the Basotho Blanket. This blanket features the artwork of a Sotho woman smoking a traditional pipe with a head wrap, by South African artist Phathu Nembwili.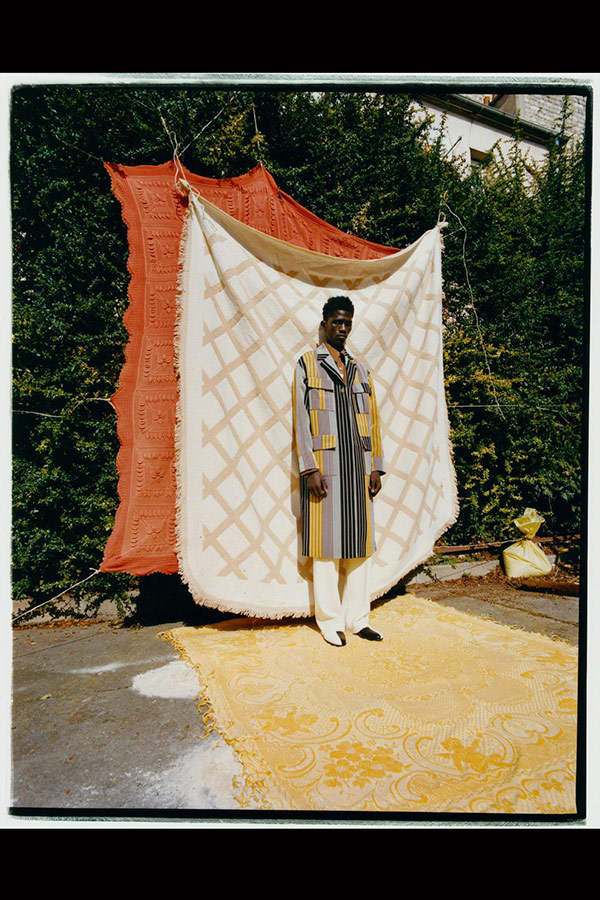 Innovative wool crepe fabric created by Kenneth Ize and woven by a community of local artisans.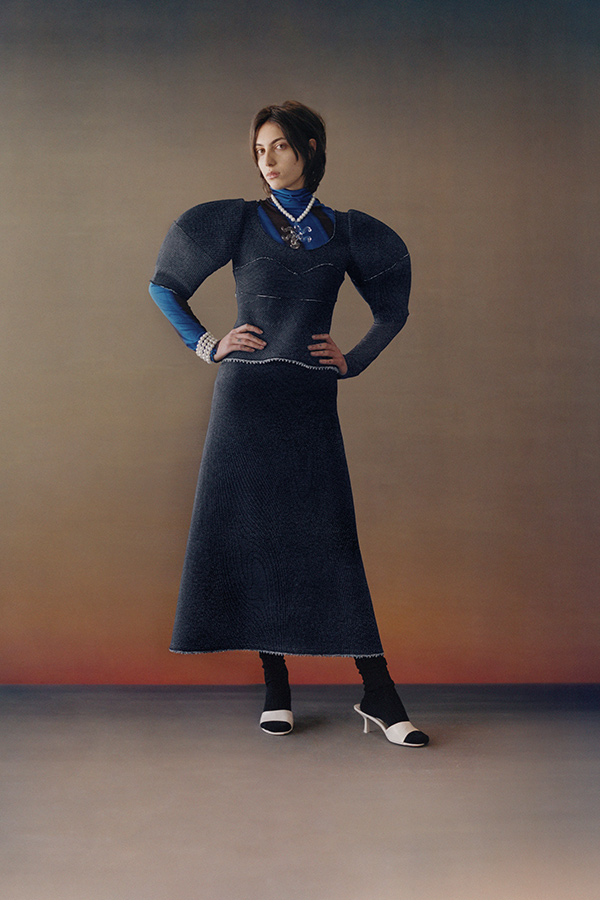 LECAVALIER's denim-like wool look.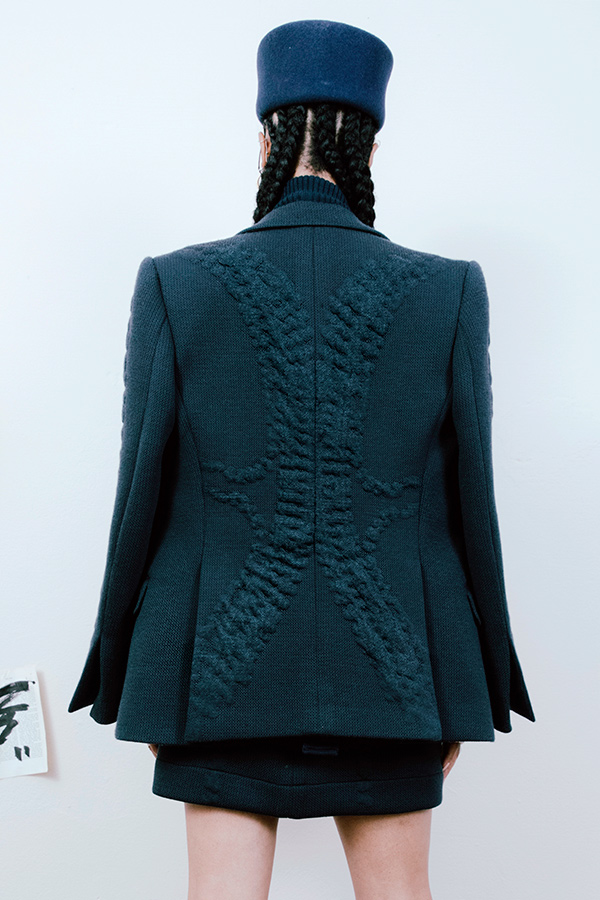 THEBE MAGUGU's scarification jacket created in collaboration with Byborre.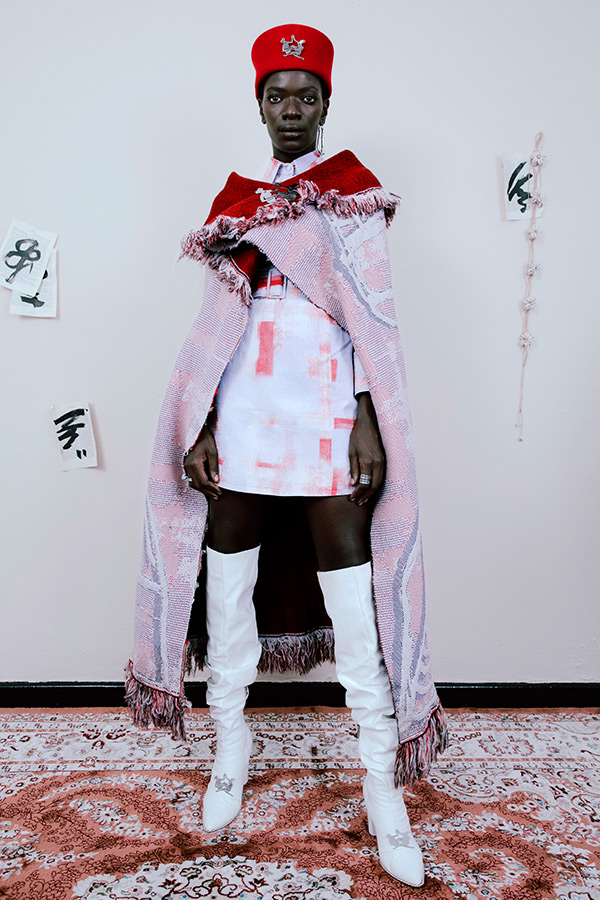 THEBE MAGUGU's Basotho blanket constructed with 3D knitting.
Wool for wellness

Casablanca
In his Woolmark Prize collection, Casablanca has embedded padded oil capsules into the fabric's fibres. These release a burst of fragrance when stimulated by fiction and movement. With every warm hug, a refreshing aroma is unleashed into the air. Each essential oil has been carefully selected for its unique properties. For instance, the bright yellow suit is imbued with a zesty citrus fragrance designed to boost energy and mental clarity.

THEBE MAGUGU
In a year where we've all been incredibly conscious of our health, THEBE MAGUGU has created an anti-viral yarn proven to be effective against virus and bacteria for up to 30 washes. Tests have proven that this Merino wool yarn eradicated 99% of viral particles.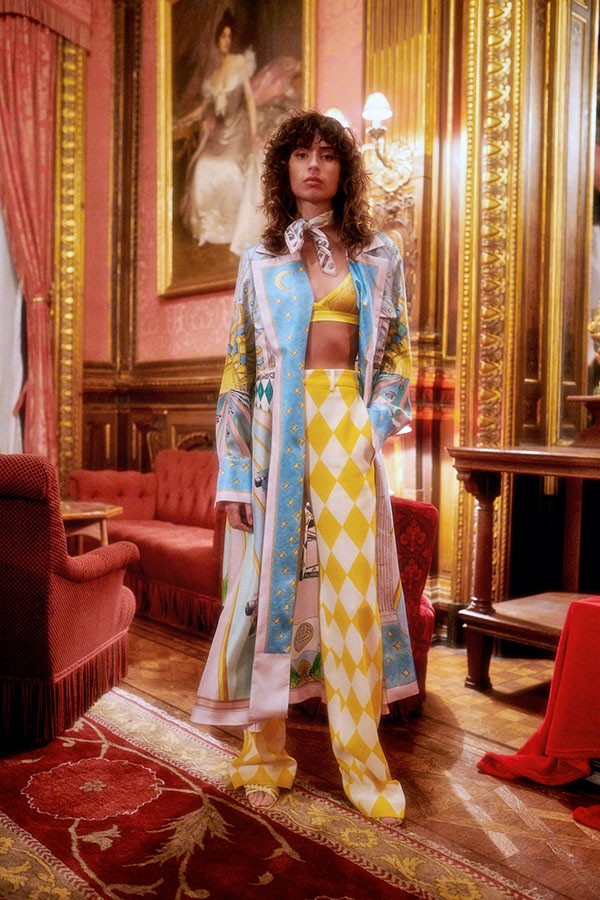 Keeping things local

Matty Bovan
Based in the northern English city of York, Bovan champions a homespun aesthetic. His entire Woolmark Prize collection was made in the UK, collaborating with local mills across the country and predominantly in Yorkshire. All yarns are hand dyed in-house in small batches to reduce water wastage. Bovan worked with a local artisan on the hand knitted panels who operates within walking distance from the Matty Bovan studio.

THEBE MAGUGU
The wool-rich tweed used in THEBE MAGUGU's Woolmark Prize collection is created entirely in South Africa. From spinning the yarns and weaving the fabric in Port Elizabeth, dipping the fabric in an antiviral solution in Cape Town to finally being constructed in Johannesburg, the Fringe Knitted Dress shines light on South Africa's collaborative manufacturing industry.

Kenneth Ize
Kenneth Ize works with, and supports, a small community of weavers as well as working directly with a variety of artisans and design groups across Nigeria. The label is devoted to the long-established traditions of Nigerian craft and local artisanship, merging a new design aesthetic with a specifically local pre-existing handcraft practice. Ize's entire collection was locally manufactured by local artisans.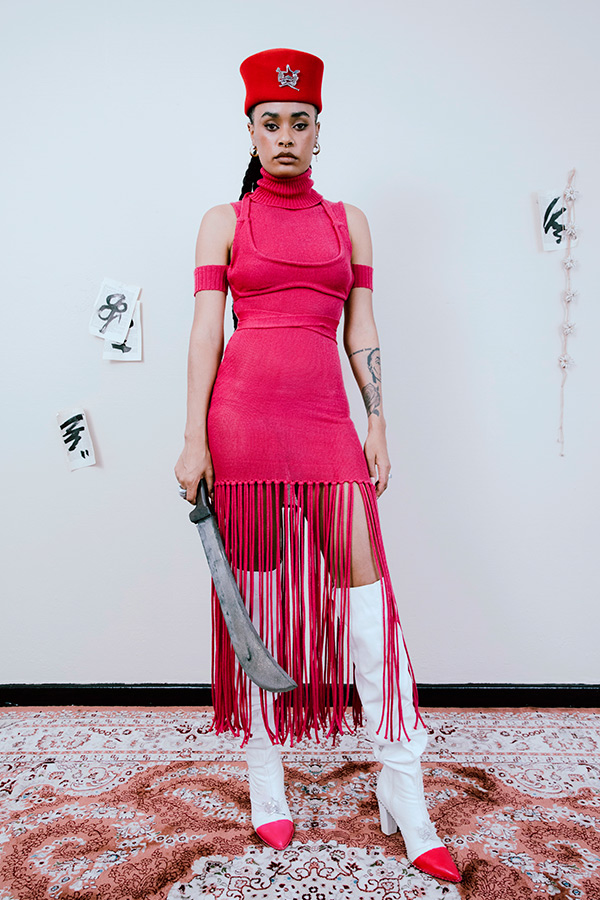 The wool-rich tweed used in THEBE MAGUGU's Woolmark Prize collection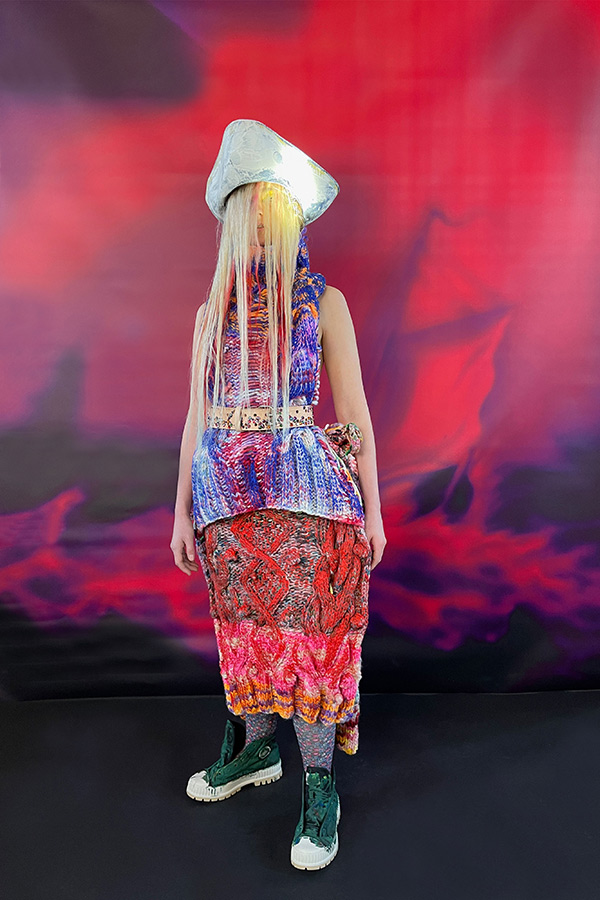 The knitted panels in Matty Bovan's Woolmark Prize collection that were locally knitted by hand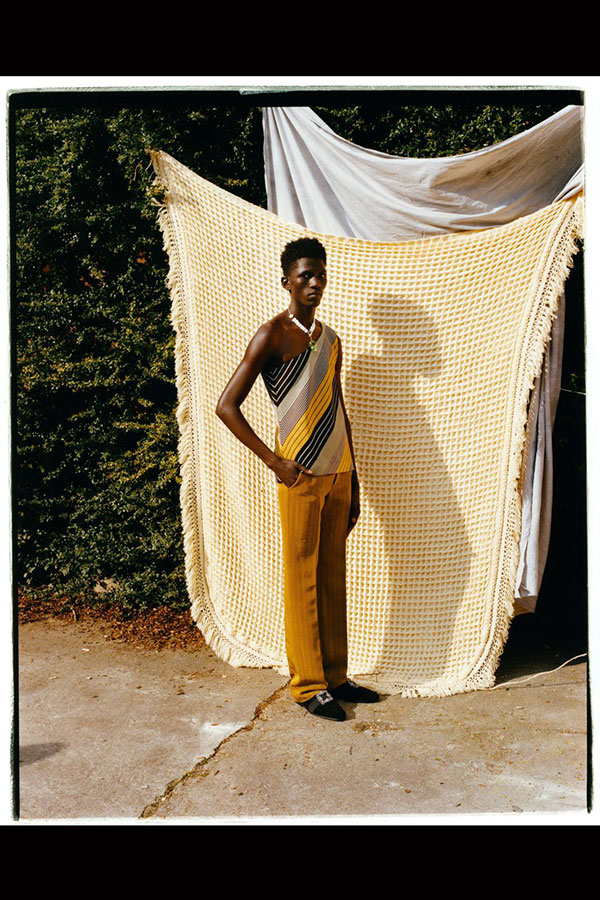 Fabric for Kenneth Ize's collection was created by a small community of weavers

See the finalists' collections